Safety precautions while cleaning
Safety / accident prevention measures should be implemented to avoid accidental fall among patients and visitors, as well as protecting the staff. Few such measures are mentioned below -
The ideal time to clean the facility is when patients / visitors are not present. If however this is not possible then they should be requested,to step aside or wait outside for the duration of the cleaning.
Avoid wet and slippery floors.
Use appropriate / cautionary signage
Arrange furniture for easy movements of the patients to avoid accidents.
Pay attention while cleaning the electrical switchboards. Do not sprinkle water / liquids on the electrical connections.
Storage of housekeeping articles / material
Storage place for housekeeping materials should be earmarked to enable easy accessibility to the housekeeping staffs. The daily usable supplies should remain in the closets provided in that area which should be maintained clean, odour free and dry. The equipment and storage closet should be cleaned every week.
The toilet cleaning materials should be stored in a separate place. Store the disinfectants and cleaning chemicals separately.
This should be controlled by the housekeeping supervisor who must check the store once a week if not daily with the aim of checking the stock and serviceability of the equipment / chemicals and should replace / replenish them respectively if required.
The used wet mops and cleaning cloths should be washed every day and dried.They should not be left soiled and wet.
Brooms are best left standing upside down on its handle so that the water drains away from the bristles.
Personal protection equipment / gear to be worn by the housekeeping staff
Healthcare workers, more so the facility's housekeeping staff, must take precautions and use personal protection in the hospital to counter the risk of contracting disease.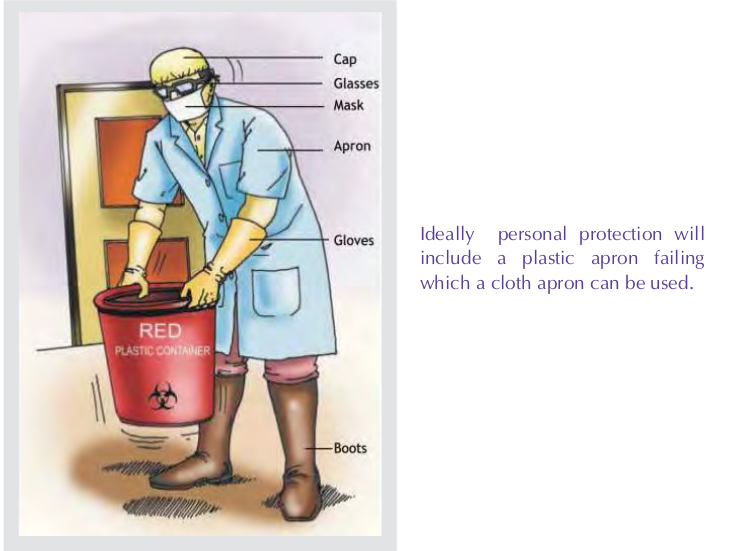 The following personal protection equipment should be used by the housekeeping staff:
Clothing – wearing of aprons over the personal clothing and / or dungarees to protect direct skin contact with the waste. Rubber aprons should be worn wherever liquid waste is being handled.
Wearing of masks when exposed to dust and allergens. Cloth masks should be used since they can be washed and reused and are more economical in the long run.
Water proof gloves / Heavy duty gloves should be worn specially when handling biomedical and potentially infectious waste.
Gumboots or rubber shoes should be worn when handling biomedical / wet waste.
Protective eye goggles should be worn to avoid the splashing of eyes with infectious /body fluids.
The specifications of various protective items as laid down by the BIS are as follows :
Specifications of Personal Protective Equipment
| | | | |
| --- | --- | --- | --- |
| Article | BIS standards | Remarks | When Used |
| Gloves rubber | IS 6994 (Pt 1):1973 | Household utility gloves can also be used | Handling disinfectant cleaning |
| Gum boots / rubber shoes | IS 13695 : 1995 | | Cleaning patient areas,Cleaning heavily contaminated areas Handling or disposing waste |
| Apron Cloth | IS 5029: 1979 | | When spills or splashes are expected |
| Apron Rubber | IS 4892:1987 / ISO 5235:1977 Synthetic rubber aprons (reinforced) for drafting systems (first revision) | Alternatively Rubber aprons for labour rooms can be used. IS 4501:1981 | |
| Face mask | IS 6190: 1971 | | |
| Respiratory full face masks | IS 14166 : 1994 | For continuous exposure at waste disposal sites /plants | |
Source: Swachhta Abhiyaan Guidelines for Public Health Facilities
© 2006–2019 C–DAC.All content appearing on the vikaspedia portal is through collaborative effort of vikaspedia and its partners.We encourage you to use and share the content in a respectful and fair manner. Please leave all source links intact and adhere to applicable copyright and intellectual property guidelines and laws.