Mera Ration mobile app launched
The One Nation One Ration Card (ONORC) scheme is being implemented by the Department for the nation-wide portability of ration cards under National Food Security Act (NFSA). This system allows all NFSA beneficiaries, particularly migrant beneficiaries, to claim either full or part foodgrains from any Fair Price Shop (FPS) in the country through existing ration card with biometric/Aadhaar authentication in a seamless manner. The system also allows their family members back home, if any, to claim the balance foodgrains on same the ration card.
Mera Ration mobile app
Department of Food & Public Distribution under Ministry of Consumer Affairs, Food & Public Distribution has developed a Mobile Application "MERA RATION", to facilitate various ONORC related services among NFSA beneficiaries, particularly migrant beneficiaries, FPS dealers and other relevant stakeholders.
Salient features of the mobile app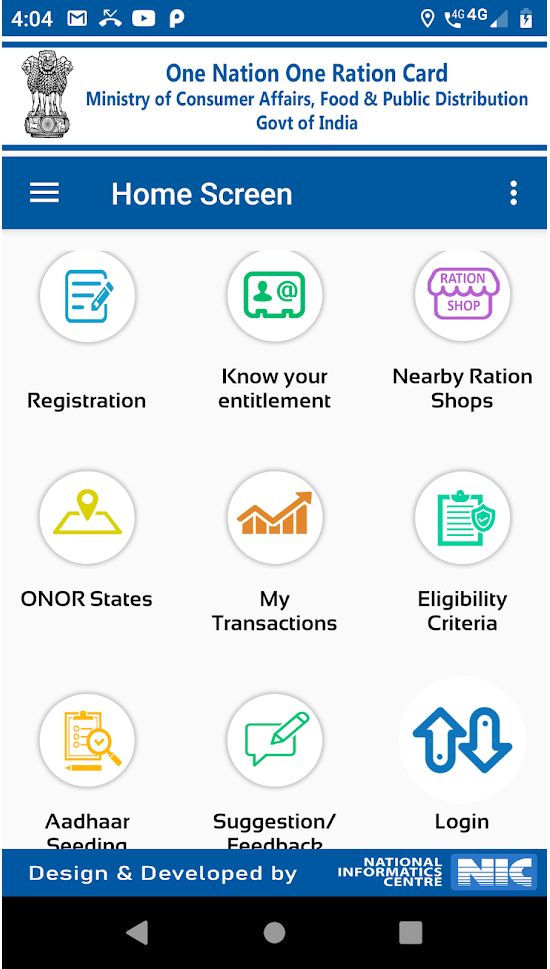 Some of the salient features of this application are:
Beneficiaries can identify and locate the nearest fair price shop.
Beneficiaries can easily check details of their:

Foodgrain entitlement
Recent transactions
Status of Aadhaar seeding

Migrant beneficiaries can register their migration details through the application.
Option for beneficiaries to enter suggestions/feedback.
Application is currently available in English and Hindi.
More functionalities will be added in the application with time to improve its utility and extend additional services.
How to download the app
To download the app for Android mobiles, click here.
© 2006–2019 C–DAC.All content appearing on the vikaspedia portal is through collaborative effort of vikaspedia and its partners.We encourage you to use and share the content in a respectful and fair manner. Please leave all source links intact and adhere to applicable copyright and intellectual property guidelines and laws.