The Prime Minister in his address to nation on 12.05.2020 announced an economic stimulus package for Rs 20-lakh-crore (estimated at 10% of the GDP), towards building a Atmanirbhar Bharat, or a self-reliant, resilient India. The Package is to cater to various sections including cottage industry, MSMEs, labourers, middle class, industries, among others.
Five pillars of Atmanirbhar Bharat
Economy - an economy that brings Quantum Jump rather than Incremental change.
Infrastructure - an infrastructure that became the identity of modern India.
System - A system that is driven by technology which can fulfill the dreams of the 21st century; a system not based on the policy of the past century.
Demography - Our Vibrant Demography is our strength in the world's largest democracy, our source of energy for self-reliant India.
Demand - The cycle of demand and supply chain in our economy, is the strength that needs to be harnessed to its full potential.
Reforms for MSME
Emergency Credit Line to Businesses/MSMEs from Banks and NBFCs up to 20% of entire outstanding credit as on 29.2.2020

Borrowers with up to Rs. 25 crore outstanding and Rs. 100 crore turnover eligible
Loans to have 4 year tenor with moratorium of 12 months on Principal repayment
Interest to be capped
100% credit guarantee cover to Banks and NBFCs on principal and interest
Scheme can be availed till 31st Oct 2020
No guarantee fee, no fresh collateralto the tune of Rs 3 lakh crores for MSMEs. Collateral free loan to be provided to SMEs with 12 month moratorium.
45 lakh units to benefit.

Rs 20,000 crores Subordinate Debt for Stressed MSMEs

For stressed MSMEs, provision of Rs 20,000 crore subordinate debt for equity support announced. 2 lakh MSMEs likely to benefit.
Functioning MSMEs which are NPA or are stressed will be eligible
Govt. will provide a support of Rs. 4,000 Cr. to CGTMSE. CGTMSE will provide partial Credit Guarantee support to Banks
Promoters of the MSME will be given debt by banks, which will then be infused by promoter as equity in the Unit.

Equity infusion - For MSMEs who may be doing viable business but need handholding because of current situation, the govt announces Rs 50,000 crore equity infusion via 'fund of funds'. This will be operated through 'mother fund' and a few 'daughter funds'.
Revision of MSME definition as follows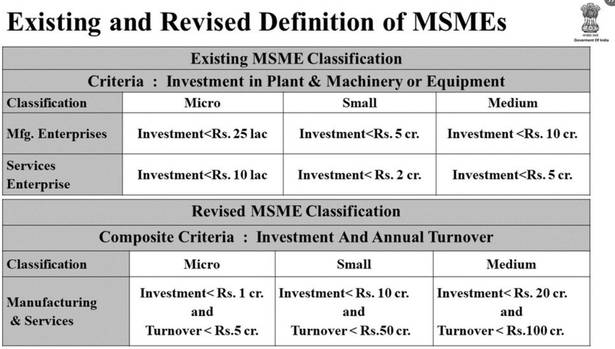 e-market linkage for MSMEs to be promoted to act as a replacement for trade fairs and exhibitions.
Fintech will be used to enhance transaction based lending using the data generated by the e-marketplace.
Government procurement - For govt procurement, global tenders will be disallowed for tenders up to Rs 200 crore. Within the next 45 days, all pending payments from government and CPSEs to MSMEs will be cleared.
EPF support to businesses -

Under Pradhan Mantri Garib Kalyan Package (PMGKP), payment of 12% of employer and 12% employee contributions was made into EPF accounts of eligible establishments. This was provided earlier for salary months of March, April and May 2020. This support will be extended by another 3 months to salary months of June, July and August 2020.
EPF contribution reduced for Business & Workers for 3 months. Statutory PF contribution of both employer and employee will be reduced to 10% each from existing 12% each for CPSEs and State PSUs will however continue to contribute 12% as employer contribution. This scheme will be applicable for workers who are not eligible for 24% EPF support under PM Garib Kalyan Package and its extension.all establishments covered by EPFO for next 3 months.
Other measures
For NBFCs/MFIs, govt to launch Rs 30,000 crore special liquidity scheme. Rs 45,000 cr Partial Credit Guarantee Scheme 2.0 for NBFC.
To support Discoms, a one time provision by PFC and REC to infuse Rs 90,000 crore liquidity for discoms against receivables.
All contractors engaged by the govt will be given an extension of up to 6 months. Government agencies to partially release bank guarantees, to the extent contracts are partially completed, to ease cash flows.
To help destress developers, the urban development ministry will issue advisory to states and UT, where in their regulatory authorities be asked to extend registration and completion date for all registered projects expiring on or after March 25, suo moto by 6 months.
TDS and TCS rates cut 25% for 2020-21. The rates of Tax Deduction at Source (TDS) for non-salaried specified payments made to residents and rates of Tax Collection at Source (TCS) for the specified receipts shall be reduced by 25% of the existing rates. Payment for contract, professional fees, interest, rent, dividend, commission, brokerage, etc. shall be eligible for this reduced rate of TDS. This reduction shall be applicable for the remaining part of the FY 2020-21 i.e. from tomorrow to 31st March, 2021.
All pending refunds to charitable trusts and noncorporate businesses & professions including proprietorship, partnership, LLP and Co-operatives shall be issued immediately.
Due date of all income-tax return for FY 2019-20 will be extended from 31st July, 2020 & 31st October, 2020 to 30th November, 2020 and Tax audit from 30th September, 2020 to 31st October, 2020.
Date of assessments getting barred on 30th September,2020 extended to 31st December,2020 and those getting barred on 31st March,2021 will be extended to 30th September, 2021.
Short term and long-term measures for supporting the poor, including migrants, farmers, etc
Following short term and long-term measures for supporting the poor, including migrants, farmers, tiny businesses and street vendors have been announced.
Free food grains supply to migrants for 2 months
For the migrant labour, additional food grain to all the States/UTs at the rate of 5 kg per migrant labourer and 1 kg Chana per family per month for two months i.e. May and June, 2020 free of cost shall be allocated. Migrant labourers not covered under National Food Security Act or without a ration card in the State/UT in which they are stranded at present will be eligible. States/UTs shall be advised to put a mechanism for targeted distribution as envisaged in the scheme. 8 Lakh MT of food-grain and 50,000 MT of Chana shall be allocated. The entire outlay of Rs. 3500 crore will be borne by Government of India.
Technology system to be used enabling Migrants to access PDS (Ration) from any Fair Price Shops in India by March,2021-One Nation one Ration Card
Pilot scheme for portability of ration cards will be extended to 23 states. By that, 67 crore beneficiaries covering 83% of PDS population will be covered by National portability of Ration cards by August, 2020. 100% National portability will be achieved by March, 2021. This is part of PM's Technology Driven System Reforms This scheme will enable a migrant worker and their family members to access PDS benefits from any Fair Price Shop in the country. This will ensure that the people in transit, especially migrant workers can also get the benefit of PDS benefit across the country.
Scheme for Affordable Rental Housing Complexes for Migrant Workers and Urban Poor to be launched
Central Government will launch a scheme for migrant workers and urban poor to provide ease of living at affordable rent. Affordable Rental Housing Complexes will provide social security and quality life to migrant labour, urban poor, and students etc.This will be done through converting government funded houses in the cities into Affordable Rental Housing Complexes (ARHC) under PPP mode through concessionaire; manufacturing units, industries, institutions, associations to develop Affordable Rental Housing Complexes (ARHC) on their private land and operate; and Incentivizing State Govt agencies/Central Government Organizations on similar lines to develop Affordable Rental Housing Complexes (ARHC) and operate. The exact details of the scheme will be released by the Ministry/Department.
2% Interest Subvention for 12 months for Shishu MUDRA loanees- Relief of Rs. 1,500 crore
Government of India will provide Interest subvention of 2% for prompt payees for a period of 12 months to MUDRA Shishu loanees, who have loans below Rs 50,000.The current portfolio of MUDRA Shishu loans is around Rs 1.62 Lakh crore. This will provide relief of about Rs 1,500 crore to Shishu MUDRA loanee.
Rs 5,000 crore Credit facility for Street Vendors
A special scheme will be launched within a month to facilitate easy access to credit to Street vendors, who are amongst the most adversely impacted by the present situation for enabling them to restart their businesses. Under this scheme, bank credit facility for initial working capital up to Rs. 10,000 for each enterprise will be extended. This scheme will cover urban as well as rural vendors doing business in the adjoining urban areas. Use of digital payments and timely repayments will be incentivized through monetary rewards. It is expected that 50 lakh street vendors will be benefitted under this scheme and credit of Rs. 5,000 crore would flow to them.
Rs 70,000 crore boost to housing sector and middle income group through extension of Credit Linked Subsidy Scheme for MIG under PMAY (Urban)
The Credit Linked Subsidy Scheme for Middle Income Group (annual Income between Rs 6 and 18 lakhs) will be extended up to March 2021. This will benefit 2.5 lakhs middle income families during 2020-21 and will lead to investment of over Rs 70,000 crore in housing sector. This will create significant number of jobs by giving boost to Housing sector and will stimulate demand for steel, cement, transport and other construction materials. <p.Rs 6,000 crore for Creating employment using CAMPA funds
Approximately Rs 6,000 crore of funds under Compensatory Afforestation Management & Planning Authority (CAMPA) will be used for Afforestation and Plantation works, including in urban areas, Artificial regeneration, assisted natural regeneration, Forest management, soil & moisture conservation works, Forest protection, forest and wildlife related infrastructure development, wildlife protection and management etc. Government of India will grant immediate approval to these plans amounting to Rs 6000 crore. This will create job opportunities in urban, semi-urban and rural areas and also for Tribals (Adivashis).
Rs 30,000 crore Additional Emergency Working Capital for farmers through NABARD
NABARD will extend additional re-finance support of Rs 30,000 crore for meeting crop loan requirement of Rural Cooperative Banks and RRBs. This refinance will be front-loaded and available on tap. This is over and above Rs 90,000 crore that will be provided by NABARD to this sector in the normal course. This will benefit around 3 crore farmers, mostly small and marginal and it will meet their post-harvest Rabi and current Kharif requirements.
Rs 2 lakh crore credit boost to 2.5 crore farmers under Kisan Credit Card Scheme
A special drive to provide concessional credit to PM-KISAN beneficiaries through Kisan Credit Cards. Fisherman and Animal Husbandy Farmers will also be included in this drive. This will inject additional liquidity of Rs 2 lakh crore in the farm sector. 2.5 crore farmers will be covered.
Reforms for Agriculture, Fisheries and Food Processing Sectors
the following measures to strengthen Infrastructure Logistics and Capacity Building for Agriculture, Fisheries and Food Processing Sectors:
Rs 1 lakh crore Agri Infrastructure Fund for farm-gate infrastructure for farmers</p.
Financing facility of Rs. 1,00,000 crore will be provided for funding Agriculture Infrastructure Projects at farm-gate & aggregation points (Primary Agricultural Cooperative Societies, Farmers Producer Organizations, Agriculture entrepreneurs, Start-ups, etc.).Impetus for development of farm-gate & aggregation point, affordable and financially viable Post Harvest Management infrastructure. Fund will be created immediately.
Rs 10,000 crore scheme for Formalisation of Micro Food Enterprises (MFE)
A Scheme promoting vision of Prime Minister Shri Narendra Modi: 'Vocal for Local with Global outreach' will be launched to help 2 lakh MFEs who need technical upgradation to attain FSSAI food standards, build brands and marketing. Existing micro food enterprises, Farmer Producer Organisations, Self Help Groups and Cooperatives to be supported. The focus will be on women and SC/ST owned units and those in Aspirational districts and a Cluster based approach (e.g. Mango in UP, Tomato in Karnataka, Chilli in Andhra Pradesh, Orange in Maharashtra etc.) will be followed.
Rs 20,000 crore for fisherman through Pradhan Mantri Matsya Sampada Yojana (PMMSY)
The Government will launch the PMMSY for integrated, sustainable, inclusive development of marine and inland fisheries. Rs 11,000 crore for activities in Marine, Inland fisheries and Aquaculture and Rs. 9000 crore for Infrastructure - Fishing Harbours, Cold chain, Markets etc shall be provided. Cage Culture, Seaweed farming, Ornamental Fisheries as well as New Fishing Vessels, Traceability, Laboratory Network etc. will be key activities. There will be provisions of Ban Period Support to fishermen (during the period fishing is not permitted), Personal & Boat Insurance.This will lead to Additional Fish Production of 70 lakh tones over 5 years, Employment to over 55 lakh persons and double the exports to Rs 1,00,000 crore. The focus will be on Islands, Himalayan States, North-east and Aspirational Districts.
National Animal Disease Control Programme
National Animal Disease Control Programme for Foot and Mouth Disease (FMD) and Brucellosis launched with total outlay of Rs. 13,343 crore to ensure 100% vaccination of cattle, buffalo, sheep, goat and pig population (total 53 crore animals) for Foot and Mouth Disease (FMD) and for brucellosis. Till date, 1.5 crore cows & buffaloes tagged and vaccinated.
Animal Husbandry Infrastructure Development Fund - Rs. 15,000 crore
An Animal Husbandry Infrastructure Development Fund of Rs. 15,000 crore will be set up, with an aim to support private investment in Dairy Processing, value addition and cattle feed infrastructure. Incentives will be given for establishing plants for export of niche products.
Promotion of Herbal Cultivation: Outlay of Rs. 4,000 crore
The National Medicinal Plants Board (NMPB) has supported 2.25 lakh hectare area under cultivation of medicinal plants. 10,00,000 hectare will be covered under Herbal cultivation in next two years with outlay of Rs. 4,000 crore. This will lead to Rs. 5,000 crore income generation for farmers. There will be network of regional Mandis for Medicinal Plants. NMPB will bring 800-hectare area by developing a corridor of medicinal plants along the banks of Ganga.
Beekeeping initiatives – Rs 500 crore
Government will implement a scheme for:
Infrastructure development related to Integrated Beekeeping Development Centres, Collection, Marketing and Storage Centres, Post Harvest & value Addition facilities etc;
Implementation of standards & Developing traceability system
Capacity building with thrust on women;
Development of quality nucleus stock and bee breeders.
This will lead to increase in income for 2 lakh beekeepers and quality honey to consumers.</li.
From 'TOP' to TOTAL - Rs 500 crore
"Operation Greens" run by Ministry of Food Processing Industries (MOFPI) will be extended from tomatoes, onion and potatoes to ALL fruit and vegetables. The Scheme would provide 50% subsidy on transportation from surplus to deficient markets, 50% subsidy on storage, including cold storages and will be launched as pilot for the next 6 months and will be extended and expanded.This will lead to better price realisation to farmers, reduced wastages, affordability of products for consumers.
Following measures for Governance and Administrative Reforms for Agriculture Sector:-
Amendments to Essential Commodities Act to enable better price realisation for farmers The Government will amend Essential Commodities Act. Agriculture food stuffs including cereals, edible oils, oilseeds, pulses, onions and potato shall be deregulated. Stock limit will be imposed under very exceptional circumstances like national calamities, famine with surge in prices. Further, No such stock limit shall apply to processors or value chain participant, subject to their installed capacity or to any exporter subject to the export demand.
Agriculture Marketing Reforms to provide marketing choices to farmers
A Central law will be formulated to provide -
adequate choices to the farmer to sell their produce at remunerative price;
barrier free Inter-State Trade;
a framework for e-trading of agriculture produce.
Agriculture Produce Pricing and Quality Assurance:
The Government will finalise a facilitative legal framework to enable farmers to engage with processors, aggregators, large retailers, exporters etc. in a fair and transparent manner. Risk mitigation for farmers, assured returns and quality standardisation shall form integral part of the framework.
Employment, support to businesses, Ease of Doing Business and State Governments
The detailed seven measures for providing employment, support to businesses, Ease of Doing Business, and State Governments as well sectors such as Education and Health are as follows.
1. Rs 40,000 crore increase in allocation for MGNREGS to provide employment boost
The Government will now allocate an additional Rs 40,000 crore under MGNREGS. It will help generate nearly 300 crore person days in total addressing need for more work including returning migrant workers in Monsoon season as well. Creation of larger number of durable and livelihood assets including water conservation assets will boost the rural economy through higher production.
Health Reforms & Initiatives
Public Expenditure on Health will be increased by investing in grass root health institutions and ramping up Health and Wellness Centres in rural and urban areas. Setting up of Infectious Diseases Hospital Blocks in all districts and strengthening of lab network and surveillance by Integrated Public Health Labs in all districts & block level Labs & Public Health Unit to manage pandemics. Further, National Institutional Platform for One health by ICMR will encourage research. And implementation of National Digital Health Blueprint under the National Digital Health Mission.
Further enhancement of Ease of Doing Business through IBC related measures
Minimum threshold to initiate insolvency proceedings has been raised to Rs. 1 crore (from Rs. 1 lakh, which largely insulates MSMEs). Special insolvency resolution framework for MSMEs under Section 240A of the Code will be notified soon.
Suspension of fresh initiation of insolvency proceedings up to one year, depending upon the pandemic situation. Empowering Central Government to exclude COVID 19 related debt from the definition of "default" under the Code for the purpose of triggering insolvency proceedings.
Decriminalisation of Companies Act defaults
Decriminalisation of Companies Act violations involving minor technical and procedural defaults such as shortcomings in CSR reporting, inadequacies in Board report, filing defaults, delay in holding of AGM. The Amendments will de-clog the criminal courts and NCLT. 7 compoundable offences altogether dropped and 5 to be dealt with under alternative framework.
Ease of Doing Business for Corporates
Key reforms include:
Direct listing of securities by Indian public companies in permissible foreign jurisdictions.
Private companies which list NCDs on stock exchanges not to be regarded as listed companies.
Including the provisions of Part IXA (Producer Companies) of Companies Act, 1956 in Companies Act, 2013.
Power to create additional/ specialized benches for NCLAT
Lower penalties for all defaults for Small Companies, One-person Companies, Producer Companies & Start Ups.
Public Sector Enterprise Policy for a New, Self-reliant India
Government will announce a new policy whereby -
List of strategic sectors requiring presence of PSEs in public interest will be notified
In strategic sectors, at least one enterprise will remain in the public sector but private sector will also be allowed
In other sectors, PSEs will be privatized (timing to be based on feasibility etc.)
To minimise wasteful administrative costs, number of enterprises in strategic sectors will ordinarily be only one to four; others will be privatised/ merged/ brought under holding companies
Support to State Governments
Centre has decided to increase borrowing limits of States from 3% to 5% for 2020-21 only. This will give States extra resources of Rs. 4.28 lakh crore. Part of the borrowing will be linked to specific reforms (including recommendations of the Finance Commission). Reform linkage will be in four areas: universalisation of 'One Nation One Ration card', Ease of Doing Business, Power distribution and Urban Local Body revenues. A specific scheme will be notified by Department of Expenditure on the following pattern:
Unconditional increase of 0.50%
1% in 4 tranches of 0.25%, with each tranche linked to clearly specified, measurable and feasible reform actions
Further 0.50% if milestones are achieved in at least three out of four reform areas
Education sector
Union Finance Minister announced the immediate set of initiatives in this direction includes:
A comprehensive initiative called PM e-VIDYA will be launched which unifies all efforts related to digital/online/on-air education. This will enable multi-mode access to education, and includes: DIKSHA (one nation-one digital platform) which will now become the nation's digital infrastructure for providing quality e-content in school education for all the states/UTs; TV (one class-one channel) where one dedicated channel per grade for each of the classes 1 to 12 will provide access to quality educational material: SWAYAM online courses in MOOCS format for school and higher education; IITPAL for IITJEE/NEET preparation; Air through Community radio and CBSE Shiksha Vani podcast; and study material for the differently abled developed on Digitally Accessible Information System (DAISY) and in sign language on NIOS website/ YouTube. This will benefit nearly 25 crore school going children across the country.
In this time of global pandemic, it is vital that we provide psychosocial support to students, teachers and families for mental health and emotional wellbeing. The Manodarpan initiative is being launched to provide such support through a website, a toll-free helpline, national directory of counselors, interactive chat platform, etc. This initiative will benefit all school going children in the country, along with their parents, teachers and the community of stakeholders in school education.
Government is expanding e-learning in higher education – by liberalizing open, distance and online education regulatory framework. Top 100 universities will start online courses. Also, online component in conventional Universities and ODL programmes will also be raised from present 20% to 40%. This will provide enhanced learning opportunities to nearly 7 crore students across different colleges and Universities.
There is a need to promote critical thinking, creative and communication skills, along with experiential and joyful learning for the students focussing on learning outcomes. The curriculum must be rooted in the Indian ethos and integrated with global skill requirements. Therefore, it has been decided to prepare a new National Curriculum and Pedagogical Framework for school education, teacher education and early childhood stage to prepare students and future teachers as per global benchmarks.
A National Foundational Literacy and Numeracy Mission will be launched, for ensuring that every child in the country necessarily attains foundational literacy and numeracy in Grade 3 by 202 For this, teacher capacity building, a robust curricular framework, engaging learning material – both online and offline, learning outcomes and their measurement indices, assessment techniques, tracking of learning progress, etc. will be designed to take it forward in a systematic fashion. This mission will cover the learning needs of nearly 4 crore children in the age group of 3 to 11 years.