The India Brand Equity Foundation (IBEF) is a Trust established by the Department of Commerce, Ministry of Commerce and Industry, Government of India.
About IBEF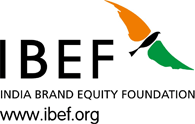 The primary objective of India Brand Equity Foundation (IBEF) is to promote and create international awareness of the Made in India label in markets overseas and to facilitate dissemination of knowledge of Indian products and services. Towards this objective, IBEF works closely with stakeholders across government and industry. IBEF works with a network of stakeholders - domestic and international - to promote Brand India. The IBEF produces some of the finest research reports, factbooks, insights papers and case studies across various sectors, businesses and trends in the Indian economy. These publications offer authoritative information on business partnerships and growth opportunities in India.
The three main pillars of IBEF are:
Export Promotion
Knowledge Centre
Digital Media
Export Promotion
Promoting Indian exports with 360-degree branding and marketing campaigns is one of the key mandates for IBEF. It runs campaigns for various important sectors and aims at improving and increasing the perception of Indian products and services.
Brand India Pharma Campaign
Brand India Engineering
Brand India Agri-Products
Brand India Leather
Brand India Textile
Knowledge Centre
The IBEF Knowledge Centre is among the most popular resource centres for information on Indian economy and business for global policymakers, buyers, investors and media. The www.ibef.org is a knowledge centre for global investors, international policy-makers and world media seeking updated, accurate and comprehensive information on the Indian economy, states and sectors. IBEF regularly tracks government announcements in policy, foreign investment, macroeconomic indicators and business trends.
The Knowledge Centre also offers unique publications like The India Study, India Now Business and Economy magazine, 50 Reasons to Partner with India, The Best of India in Products and The Best of India in Services which present various trends and facts about India's vibrant business ecosystem.
Digital Media
IBEF has got a strong digital presence which has attained global reach through its websites and social media platforms. IBEF uses its digital assets to promote Brand India in key international markets. Through select online mediums, IBEF promotes key sectors of India by disseminating useful and engaging information.
Related Links