Chendamangalam Dhoti
Background
Chendamangalam is a village of handloom weavers in the western Parur region of Ernakulam district in Kerala. The historical relevant of Chendamangalam handlooms is intertwined with that of "PaliathAchans". Chendamangalam Dhotis are renowned for the traditional design and production values. These dhotis are made from the best and fine quality of 60s, 80s, and 100s cotton yarn with Kasavu (zari) border.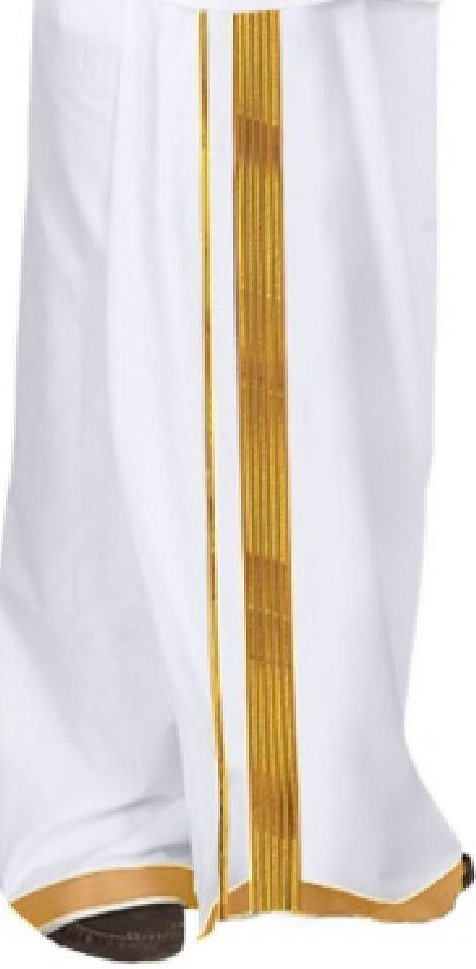 Material used
The basic raw materials used for the weaving of Chendamangalam Dhoties are fine count cotton yarn and Kasavu (zari).
Techniques applied
The specialty of the Dhoti lies in preparation of warp thread by street sizing. The warp threads become almost round and uniform in shape after sizing so that the Dhoti has very clear surface without any protruding fibers on it. Borders are patterned with Kasavu (zari). The cross border of the dhoti is woven with Kasavu by employing rib weave.
How to distinguish genuine Chendamangalam Dhoti
Dhoti is woven with undyed grey cotton yarns.
Design appears very prominently on Kasavu both side border and cross border.
Basic texture i.e, thread density of the fabric is higher than that of similar cotton dhotis.
Less starchy finish in the saree to get softer touch.
Chettinadu Cotton Sarees
Background
Chettinador Chettinadu in Tamil Nadu, India has contributed to the Indian cultural scene through its famed Chettinad style of cooking and the unique Chettinadsarees. Traditionally Chettinadsaree was woven in Karaikudi and Chettinadu areas which is located at 57 Kms away from Sivagangai District Headquarters. The distinguishing features of the Chettinadsarees are its seemingly heavy look and the striking colours that are achieved through a deft combination of stripes, checks and colour contrasts.
Materials used
Chettinad Cotton sarees are normally woven with 60s Cotton warp and 60s Cotton weft. The extra warp designs are woven with the use of Dobby. The colours of the ChettinadSarees are of the traditional colours like yellow, green, red & its derivatives blue, maroon were used along with white and black to give richness to the sarees.
Technique used
Chettinadsarees are woven with Pit looms / Raised pit looms with fly shuttle weaving technique. The traditional type of spreading the warp behind the loom i.e. ball warp, are employed. By employing small stripes in different colour at the joining of the borders on both sides in warp way adds beauty of the sarees. The size of the borders are comparatively broader than the ordinary sarees. The pallav of the sarees were woven with weft stripe. The major communities involved in weaving Chettinad CottonSarees are DevangaChettiyars who are the skilled weavers from ancient days. Originally 3 shuttles were used to obtain contrast solid coloured borders in both sides of the saree. Presently, the same is seldom used.
How to distinguish genuine Chettinad Cotton Sarees
Small stripes in different colour at the joining of the borders in warp way on both sides.
Simple Extra warp designs are employed.
Only simple patterns are used in pallow, mostly in stripes.
The texture of the saree is relatively thicker.
The sarees are having broad stripe or check patterns.
Chettinadsarees do not have Extra weft designs in the body
Source : Indian Handloom Brand