Introduction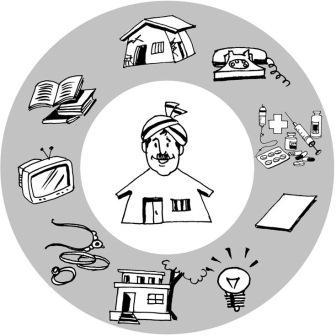 One evening, when most of the family has gathered after dinner, the discussion shifts to which is more beneficial: building/buying homes or renting them.
Malkabai, the grand old lady of the family, is quite against the idea of renting a home. She believes that it is something to be considered only when you do not have any money saved up. "We own a large grocery store, a lot of land and all my daughters-in-law have plenty of gold. Why should we even consider letting our children stay in a rented house?"
Vishal is quick to correct his mother. "That way of looking at accommodation is not right anymore, Ma," he says gently. "We have to be practical these days...we must consider all our options before we decide.
Rajendra joins in the discussion. "A home is always an asset; so buying or building one is never a wrong decision..."
"But brother," interrupts Darshan, "Suppose one has purchased a house as an asset and cannot sell it at a good price when one needs the money, what would be the use of that asset? It would make more sense to invest that  money  instead and spend some of the interest on paying rent...My friend's father had built a home as an investment asset. Then one year when their crops went bad and he had to sell it off to repay the crop loans, he actually had to sell it at a loss!"
"Well, that may be so," replied Vishal. "Property markets do go through ups and downs. Their prices do increase and decrease year after year...but over the long term, the price of a house usually increases, especially if the house is well maintained and in a good location. Your friend's father had to undertake what is called a distress sale. That means that he needed the money so urgently that he had to settle for whatever price it fetched."
"Beta, living in a rented home has problems too..." clarifies Malkabai. "I heard of a case where a family in a neighbouring town had to change houses every time the lease expired. It was such a bother...packing up all the furniture, kitchen utensils, children's books and toys, all the other things that a family collects over the years. Then resetting a house all over again, only to pack up and move in a year or so..."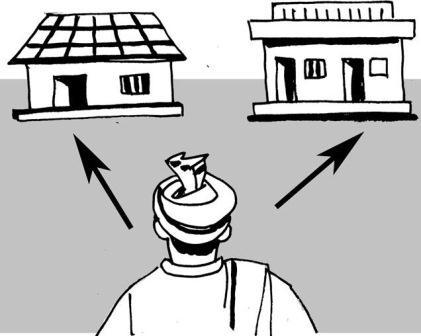 "Mother," assures Darshan. "one can convince the landlord to get into a rental agreement for five years. And, if one is on good terms with the landlord, it is understood that the lease will be renewed at the end of the term."
"Oh. That's a relief! But I always think that having a home of your own is more convenient. You can decorate it and structure it the way you like..."
Rajendra and Leelabai look at each other quite perplexed. They wonder what the outcome of the discussion will finally be. Will they be moving out into their own home or into a rented one? While the thought of being in one's own home appeared so attractive, at a more practical level, it may require a large upfront payment to be made. But then again, living in a rented home would give them the freedom to decide whether they were keen to stay back in the village they had grown up in or look for opportunities in the city, as they often discussed...
"All said, I still think we should settle our Raju in a home of his own," concluded the doting grandmother. "After all, we have land and enough money to build them a comfortable little house nearby. I would love to see his children growing up...and so would all of you."
And with that, the decision was made. Rajendra and Leela would get a home of their own.
This was based on the following factors:
Buying or building a home of your own
There are a number of factors – both economic and social - that one must consider before deciding whether to move into a rented home or purchasing/building one. In this section we will summarise all the factors that the Kumar family took into account, and a few more, before they made their decision.
When is buying or building a home a better option?
Economic Factors
Ready capital: If you have set aside money to meet all your other long term goals and can still spare enough money, you should consider buying/building your home. It is something that will always hold value… like gold. It will be something that always holds some value...just like gold. Although the prices of homes rise and fall in different years, over a long period of time, they usually move upwards. In the long run, except in the case of distress sales (wherein you need the money urgently), a well maintained home, in a well-chosen location, will finally fetch you a good price.
Availability of loans for purchase/building homes: It may not be possible for everyone to pay the entire amount required to buy a home. These days most banks and financial institutions offer loans for building a house or purchasing a ready house, at a reasonable rates of interest. They will look at your ability to pay back the loan in the future by considering your expected future income. They may even check whether you have a large loan outstanding that will reduce your chance of paying back the loan. Based on all these factors, they will then decide how much loan they can offer you. Some banks and financial institutions even allow the loan to be taken in the names of two or three people who have separate income streams but are closely related (husband and wife or parents and children). This gives the lending party the confidence to pay out a larger loan amount as the combined capability to repay is better than that of an individual.
Tax benefits: There are two types of benefits that you can receive while buying your own home.
If you purchase the home from the money that you have received from selling another home, within a year of selling your previous home, you will have to pay less (or no) taxes on the profit you made  from the sale of your previous house.
If you build your home from the money you received after selling another home, within three years of selling the previous home, you will have to pay less tax (or no tax) on the profit you made by selling your earlier house.
If you purchase a home with the help of a housing loan, under section 80 C of the Income Tax Act, you will a tax rebate on your income.
Land available: If you already own land, which can be used for residential purposes, building a home may be an option that is well within your capability. This may mean that you have to stay on rent for some time so that you can supervise the construction of yours.
Expected increase in the value of homes: If budgeting and taking a loan can afford you a house in the near future, you must consider it, especially if you expect the rates to rise in the future. Very often, chasing shorter term goals makes us lose sight of bigger goals. If you are clear that you will have to purchase a home in the future, and if your financial situation permits you to, it is always better to purchase a home sooner than later.
Non-economic factors
No plans to shift residence in the future: If you are certain that you will stay in the same area for years to come, purchasing a home would be a better decision than staying on rent. You can use the amount you pay as rent to repay the loan amount. In case you can afford to buy the house using your own money, instead of taking a loan, you can still be happy that you saved money by not paying rent month after month.
Short leases on rented property: In most cases, lease agreements for rental homes range from a period of less than one year to around three years. If you are unable to renew your rental agreement, it can be quite unsettling to move from one home to another, even in the same locality. In such cases, planning for a home of your own may be a good idea.
Decorating and structuring a home in a way that suits your needs best: It is always possible for us to adjust to the house in which we live in. However, when we live in a home that we own, we have the freedom to renovate and decorate it as we would like it to be. That is a major incentive to have a home of our own.
Renting accommodation
When is renting accommodation a better option?
Economic Factors
Insecurity of income: If the main source of your income is unsteady, it may not be possible for you to avail of a loan to purchase a home. At the same time, blocking a large amount of money in the form of purchasing a home with your own funds may also not be a good idea. This is because you may need to have access to that money easily in case of emergencies or long spells of no income flow.
Already own a retirement home elsewhere: Although you may be staying and working at a particular place, you may want to shift to a different location after your retirement.  If you already own such a retirement home, you may be more comfortable living on rent at your current work location until you shift. If you already own such a home, you may be more comfortable living on rent until you shift there.
Tax benefit: In a formal employment set-up, a part of the salary is sometimes paid out in the form of house rent assistance or HRA if the employee lives in a house which is rented. This amount of the salary becomes tax free. So to avail of this benefit, employees sometimes stay on rent, even if they have their own home. They benefit in two ways – they rent out their own home and receive income from it and they save on taxes.
Expectations of better financial status a couple of years later in life: Sometimes you are sure that your financial status will improve in a few years. Perhaps you have just started a business or job and you need time to settle in your career. In such a case, you may prefer to live on rent and purchase a larger home later instead of somehow purchasing a small home sooner.
Other financial commitments at present: You may be paying for your child's education and boarding in the city or picking up the bills for the treatment of a sick relative. At such a time, you may not be able to even think of taking a loan to buy a house, for fear that the repayment may put you under immense financial stress. You may also not want to block up your own money by purchasing a house because you are not sure if your other financial commitment may require it more urgently. In such a situation, staying in a rented house may be a good solution until you are free from those responsibilities.
Non-economic factors
On the move due to nature of job: Suppose your job requires you to shift regularly from town to town and you would like to take your family along with you. In such cases, unless you can decide where you would like to finally settle down it does not make much sense to purchase a house.
Source: Portal Content Team