The National Mission of Financial Inclusion named as the Pradhan Mantri Jan Dhan Yojana seeks to integrate the poorest of the poor with bank accounts.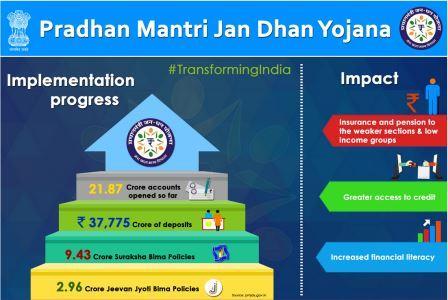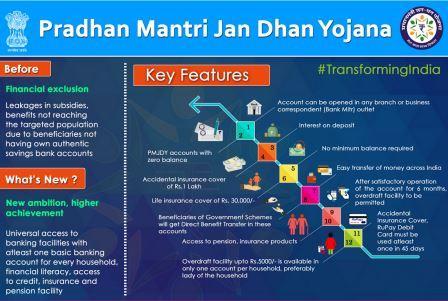 Salient features of the scheme
All households across the country - both rural and urban are to be covered under the scheme. Bank accounts will be opened for 15 crore poor persons.
All bank accounts opened under the scheme are to have an overdraft facility of Rs 5,000 for Aadhar-linked accounts after satisfactory operation in the account for 6 months.
Issuance of RuPay Debit Card with inbuilt Rs 2 lakh personal accident insurance cover. The increased coverage amount of Rs. 2 lakh is for PMJDY accounts opened after 28.08.2018.
A minimum monthly remuneration of Rs 5,000 to business correspondents who will provide the last link between the account holders and the bank.
Implementation of the scheme
The mission will be implemented in two phases, the details of which are as follows.
Phase I - 15 August 2014 - 14 August 2015
Universal access to banking facilities for all households across the country through a bank branch or a fixed point Business Correspondent (BC) within a reasonable distance.
To cover all households with atleast one basic banking account with RuPay Debit Card with inbuilt Rs 1 lakh accident insurance cover.
Financial literacy programme to be taken to the village level.
Expansion of Direct Benefit Transfer under various government schemes through bank accounts of the beneficiaries.
Issuance of Kisan Credit Card is also proposed
Phase II - 15 August 2015 - 14 August 2018
Providing micro-insurance to the people.
Unorganised sector pension schemes like Swavalamban through the Business Correspondents.
Phase III - beyond 14 August 2018
The flagship financial inclusion program (PMJDY) will focus on opening accounts from "every household to every adult".
Existing Over Draft (OD) limit of Rs 5,000 to be raised to Rs 10,000.
There will not be any conditions attached for OD upto Rs 2,000.
Age limit for availing OD facility to be revised from 18-60 years to 18-65 years.
Under the expanded coverage from "every household to every adult", accidental insurance cover for new RuPay card holders to be raised from Rs 1 lakh to Rs 2 lakh to new PMJDY accounts opened after 28.8.18.
One can open Jan Dhan account by just submitting 2 photos: Finance Ministry
Finance Ministry has said people who do not have officially valid documents or Aadhaar numbers can open Jan Dhan bank accounts by submitting two copies of signed photographs at a bank branch.
"RBI has issued guidelines dated August 26, 2014, where people who do not have officially valid documents or Aadhaar numbers can still get bank accounts opened by submitting two copies of signed photographs at the bank branch," an official statement said.
However, it said these accounts will be called small accounts and shall normally be valid for 12 months and shall be continued subject to showing of proof that he/she has applied for any of the officially valid document within 12 months of opening of such 'Small Account'.
These accounts have certain limitations such as balance at any point of time should not exceed Rs 50,000, total credit in one year should not exceed Rs 1 lakh, and total withdrawal should not exceed Rs 10,000 in a month.
An existing account holder need not open another bank account to avail of benefits under Pradhan Mantri Jan Dhan Yojana (PMJDY). The insurance benefits are available through the RuPay Card. The existing account holders can submit an application to the concerned branch to enable them to get a RuPay Debit Card in order to avail of the benefits of insurance under PMJDY. Micro credit limit of Rs 5,000 can also be extended in existing bank accounts on application depending on the satisfactory conduct of the account.
Anybody desirous of opening an account can submit the application form to the nearest bank branch/bank mitr for opening the account, it said. This one page account opening form is also available on the website of the Department www.financialservices.gov.in.
Whom to contact
FAQs on Pradhan Mantri Jan Dhan Yojana
Whether Joint account can be opened in Pradhan Mantri Jan-Dhan Yojana?
Yes, joint account can be opened.
What is RuPay Debit Card?
Rupay Debit Card is an indigenous domestic debit card introduced by National Payment Corporation of India (NPCI). This card is accepted at all ATMs (for cash withdrawal) and at most of the PoS machines (for making cashless payment for purchases) in the country.
If both husband and wife who are opening accounts under PMJDY are eligible for Accidental Insurance Cover of Rs.2.00 lac and overdraft facility of Rs.5000/- in both the accounts separately?
Accidental Insurance cover of Rs.2.00 lac will be available to all account-holders. However, overdraft facility upto Rs.5000/- will be available to only one person in the family (preferably lady of the house).
What documents are required to open an account under Pradhan Mantri Jan-Dhan Yojana?
If Aadhaar Card/Aadhaar Number is available then no other documents is required. If address has changed, then a self certification of current address is sufficient.
If Aadhaar Card is not available, then any one of the following Officially Valid Documents (OVD) is required: Voter ID Card, Driving Licence, PAN Card, Passport & NREGA Card. If these documents also contain your address, it can serve both as "Proof of Identity and Address".
If a person does not have any of the "officially valid documents" mentioned above, but it is categorized as "low risk" by the banks, then he/she can open a bank account by submitting any one of the following documents:
Identity Card with applicant"s photograph issued by Central/State Government Departments, Statutory/Regulatory Authorities, Public Sector Undertakings, Scheduled Commercial Banks and Public Financial Institutions;
Letter issued by a gazette officer, with a duly attested photograph of the person.
Whether Cheque Book will be issued in accounts opened under PMJDY?
In PMJDY accounts are being opened with Zero balance. However, if the account-holder wishes to get cheque book, he/she will have to fulfill minimum balance criteria, if any, of the bank.
Can a minor (below 18 years of age) open an account under PMJDY?
A minor of above the age of 10 years can open his / her Savings Bank account in any bank.
Can I get my PMJDY account transferred to other City / State upon my transfer posting to other States?
All banks participating in PMJDY are on CBS (Core Banking Solution) platform and the account can easily be transferred to any branch of the bank in any city/town as per the request of the account-holder.
Source : Department of Financial Services, Ministry of Finance, GoI
Related Resources