The Constitution of India recognizes Panchayats as 'Institutions of self government'. There are 2.51 lakh Panchayats in our country, which include 2.39 lakh Gram Panchayats, 6904 Block Panchayats and 589 District Panchayats. There are more than 29 lakh Panchayat representatives. Under the 14th Finance Commission for the period 2015-20, more than 2 lakh crore Rupees is being allocated to Gram Panchayats for 5 years to undertake physical and social infrastructure projects in the villages.
Background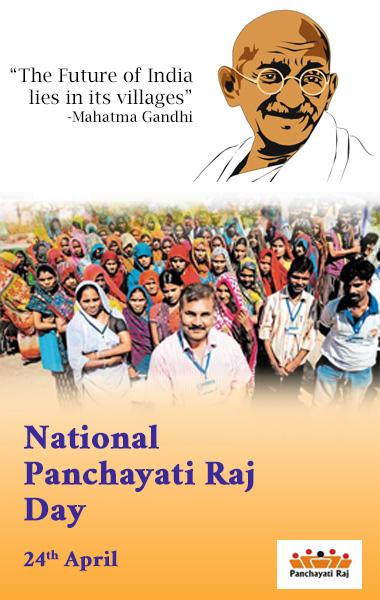 Though the Panchayati Raj Institutions have been in existence for a long time, it has been observed that these institutions have not been able to acquire the status and dignity of viable and responsive people's bodies due to a number of reasons including absence of regular elections, prolonged super sessions, insufficient representation of weaker sections like Scheduled Castes, Scheduled Tribes and women, inadequate devolution of powers and lack of financial resources.
The Constitution (73rd Amendment) Act, 1992 that came into force with effect from 24th April, 1993 has vested constitutional status on Panchayati Raj institutions. This date thus marks a defining moment in the history of decentralization of political power to the grassroots level. The impact of the 73rd Amendment in rural India is very visible as it has changed power equations irreversibly. Accordingly, the Government of India decided in consultation with the States to celebrate 24th April as National Panchayati Raj Day. The commemoration is being anchored by the Ministry of Panchayati Raj. The National Panchayati Raj Day (NPRD) is being celebrated on 24 April since 2010.
National Panchayati Raj Day 2021
Ministry of Panchayati Raj commemorates the National Panchayati Raj Day on 24th April 2021. During the National Panchayat Raj Day event, the following awards were given to the best performing Panchayats.
Deen Dayal Upadhyay Panchayat Sashaktikaran Puraskar (DDUPSP) in General and Thematic categories for all three levels of Panchayats.
Nanaji Deshmukh Rashtriya Gaurav Gram Sabha Puraskar (NDRGGSP) to Gram Panchayats for outstanding performance of Gram Sabha.
Gram Panchayat Development Plan (GPDP) Award: To be conferred upon three best performing Gram Panchayats across the country.
e-Panchayat Puraskar
Child-friendly Gram Panchayat Award
To know more about the National Panchayat Awards, click here.
Source : Ministry of Panchayati Raj
Related resources