About Deen Dayal Antyodaya Yojana
Aajeevika - National Rural Livelihoods Mission (NRLM) wa launched by the Ministry of Rural Development (MoRD), Government of India during June 2011 as a restructured version of Swarna Jayanti Gram Swarozgar Yojna (SGSY). In November 2015, the program was renamed Deendayal Antayodaya Yojana (DAY-NRLM).
The Mission aims at creating efficient and effective institutional platforms of the rural poor enabling them to increase household income through sustainable livelihood enhancements and improved access to financial services.
NRLM has set out with an agenda to cover 7 Crore rural poor households, across 600 districts, 6000 blocks, 2.5 lakh Gram Panchayats and 6 lakh villages in the country through self-managed Self Help Groups (SHGs) and federated institutions and support them for livelihoods collectives in a period of 8-10 years.
In addition, the poor would be facilitated to achieve increased access to their rights, entitlements and public services, diversified risk and better social indicators of empowerment. NRLM believes in harnessing the innate capabilities of the poor and complements them with capacities (information, knowledge, skills, tools, finance and collectivization) to participate in the growing economy of the country.
DAY - NRLM Mission
"To reduce poverty by enabling the poor households to access gainful self-employment and skilled wage employment opportunities, resulting in appreciable improvement in their livelihoods on a sustainable basis, through building strong grassroots institutions of the poor."
DAY - NRLM - Guiding Principles
Poor have a strong desire to come out of poverty, and they have innate capabilities
Social mobilization and building strong institutions of the poor is critical for unleashing the innate capabilities of the poor.
An external dedicated and sensitive support structure is required to induce the social mobilization, institution building and empowerment process.
Facilitating knowledge dissemination, skill building, access to credit, access to marketing, and access to other livelihoods services underpins this upward mobility.
DAY - NRLM Values
The core values which guide all the activities under NRLM are as follows:
Inclusion of the poorest, and meaningful role to the poorest in all the processes
Transparency and accountability of all processes and institutions
Ownership and key role of the poor and their institutions in all stages – planning, implementation, and, monitoring
Community self-reliance and self-dependence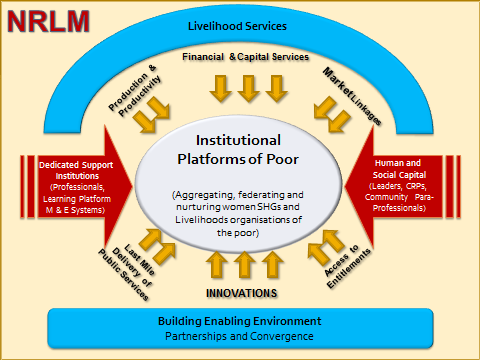 Phased Implementation
Year wise break up in terms of coverage of districts and blocks as envisaged by NRLM.
Key Features
Universal Social Mobilisation - At least one woman member from each identified rural poor household, is to be brought under the Self Help Group (SHG) network in a time bound manner. Special emphasis is particularly on vulnerable communities such as manual scavengers, victims of human trafficking, Particularly Vulnerable Tribal Groups (PVTGs), Persons with Disabilities (PwDs) and bonded labour. NRLM has devised special strategies to reach out to these communities and help them graduate out of poverty.
Participatory Identification of Poor (PIP) - The inclusion of the target group under NRLM is determined by a well-defined, transparent and equitable process of participatory identification of poor, at the level of the community. All households identified as poor through the PIP process is the NRLM Target Group and is eligible for all the benefits under the programme. Target Group is identified through the Participatory Identification of Poor (PIP) method. The NRLM Target Group (NTG) derived through the PIP is de-linked from the BPL.
Community Funds as Resources in Perpetuity - NRLM provides Revolving Fund (RF) and Community Investment Fund (CIF) as resources in perpetuity to the institutions of the poor, to strengthen their institutional and financial management capacity and build their track record to attract mainstream bank finance.
Financial Inclusion - NRLM works on both demand and supply sides of financial inclusion. On the demand side, it promotes financial literacy among the poor and provides catalytic capital to the SHGs and their federations. On the supply side, the Mission coordinates with the financial sector and encourages use of Information, Communication & Technology (ICT) based financial technologies, business correspondents and community facilitators like 'Bank Mitras'. It also works towards universal coverage of rural poor against risk of loss of life, health and assets. Further, it works on remittances, especially in areas where migration is endemic.
Livelihoods - NRLM focuses on stabilizing and promoting existing livelihood portfolio of the poor through its three pillars – 'vulnerability reduction' and 'livelihoods enhancement' through deepening/enhancing and expanding existing livelihoods options and tapping new opportunities in farm and non-farm sectors; 'employment' - building skills for the job market outside; and 'enterprises' - nurturing self-employed and entrepreneurs (for micro-enterprises).
Convergence and partnerships

Convergence: NRLM places a high emphasis on convergence with other programmes of the MoRD and other Central Ministries. Convergence is also sought with programmes of state governments for developing synergies directly or indirectly with institutions of the poor.
Partnerships with NGOs and other CSOs: NRLM has been proactively seeking partnerships with Non-Government Organizations (NGOs) and other Civil Society Organizations (CSOs), at two levels - strategic and implementation. The partnerships are guided by NRLM's core beliefs and values, and mutual agreement on processes and outcomes. Partnership guidelines to partner with NGOs, CSOs have been finalized and approved this year.
Linkages with PRIs: In view of the eminent roles of Panchayat Raj Institutions (PRIs), it is necessary to consciously structure and facilitates a mutually beneficial working relationship between Panchayats and institutions of the poor, particularly at the level of Village Panchayats. Formal platforms would be established for regular consultations between such institutions and PRIs for exchange of mutual advice, support and sharing of resources.
Aajeevika Grameen Express Yojana
The Government of India has introduced a new sub-scheme under Deendayal Antyodaya Yojana - National Rural Livelihoods Mission (DAY - NRLM) entitled "Aajeevika Grameen Express Yojana " (AGEY) from the financial year 2017-18.
Objectives
To provide an alternative source of livelihoods to members of SHGs under DAY - NRLM by facilitating them to operate public transport services in backward rural areas, as identified by the States
To provide safe, affordable and community monitored rural transport services to connect remote villages with key services and amenities (including access to markets, education and health) for the overall economic development of the area by making use of the supports available within the framework of DAY - NRLM.
Salient features
Under the programme, the Community Investment Fund (CIF) provided to Community based Organisations (CBOs) under the existing provisions of DAY - NRLM scheme will be utilised to support the SHG members to operate the public transport services. The States will have the following two options to implement the scheme:
Option I:
Vehicle will be financed by the Community Based Organisations (CBOs) out of its CIF corpus. The vehicle will be purchased and owned by CBO and leased to SHG member.
The beneficiary SHG member will operate the vehicle on selected route and will pay a monthly lease rental to the CBO. Care will be taken to ensure that the monthly lease rental fixed is reasonable and supports viability of the enterprise for the SHG member and the cost of the vehicle is also recovered from the SHG member over a maximum period of 6 years.
Interest will not be charged while recovering the cost through lease rental.
Annual cost of insurance, road tax, permit cost and maintenance cost including replacement of tyres would be borne by the CBO. The maximum funding for such items shall not exceed Rs. 2.00 lakhs per vehicle per CBO for the duration of the scheme from 2017 - 18 to 2019 - 20. The expenditure on this account will be incurred by the CBOs, as per requirement.
The running cost of the vehicle and routine maintenance (i.e. , fuel, oil, engine oil, servicing etc.) shall be borne by the SHG member.
The decision regarding the ownership of the vehicle after the cost of vehicle is fully paid up through lease rental will be taken by the CBO which may include transfer of ownership of the vehicle to the SHG member for a consideration or sale of the vehicle to any other person.
Option II:
CBO will provide an interest free loan from its CIF corpus to SHG member for purchase of the vehicle.
SHG member will repay the loan over a maximum period of 6 years and bear all the costs connected with the operation of the vehicle, including annual cost of insurance, road tax, permit cost, maintenance cost and all other running costs of the vehicle (i.e., fuel, oil, etc.).
After repayment of the loan, the ownership of the vehicle will be transferred to the SHG member
To access the complete guidelines of AGEY,
click here.
Objectives
The primary objective of the MKSP is to empower women in agriculture by making systematic investments to enhance their participation and productivity, as also create and sustain agriculture based livelihoods of rural women. Specific objectives of MKSP are as under:
To enhance the productive participation of women in agriculture
To create sustainable agricultural livelihood opportunities for women in agriculture
To improve the skills and capabilities of women in agriculture to support farm and non- farm-based activities
To ensure food and nutrition security at the household and the community level
To enable women to have better access to inputs and services of the government and other agencies
To enhance the managerial capacities of women in agriculture for better management of bio-diversity
To improve the capacities of women in agriculture to access the resources of other institutions and schemes within a convergence framework.
Components
Organization and mobilization of women in agriculture into groups (SHGs/ Federations / Women Farmer organizations).
Capacity building of women in Agriculture in order to enable them to manage and sustain their activities.
Enhanced access to assets (leasing of water bodies and land etc), for the benefit of women in Agriculture as also creation of productive assets.
Knowledge dissemination strategy, training / demonstrations, farmer-scientist interactions, exposure visits etc. of women in Agriculture in order to impart them with necessary farming skills and techniques.
Agriculture and Allied sector activities as also the post harvest processing activities that add value to the agricultural produce.
Improving market access and ensuring remunerative prices to women in agriculture.
Drudgery reduction through effective use of gender - friendly tools and transfer of technologies to women in agriculture.
Food and Nutritional security of the women in agriculture at household and community level.
Innovative interventions for better management of risk associated with climate change.
For Tribal women engaged in Non Timber Forest produce (NTFP) collection, the components include

Building community institutions of NTFP collectors and create social capital for creating a new business model around NTFP thereby augmenting the livelihoods of producers; increase the downstream bargaining power etc., This will be part of the major sector growth strategy by transforming the business from unorganized to organized.
Building Private Public Panchayat Partnership (PPPP) models around select key NTFP items targeting about 10 lakh tribal house holds, by laying well defined standards and protocols of engagement between private and community organizations for procurement, storage, value addition and marketing.
Breaking Technology barriers by effectively transferring to the producers context-specific technology, innovation/promotion o f drudgery reduction tools, value-addition technology etc. This will primarily involve scaling up the breakthroughs achieved by various agencies to take the technologies to the communities for enhanced productivity in a sustainable manner.
Removing Information asymmetry by supplying/publishing real-time market information to all stakeholders. Besides, developing an information gateway is essential for seamless transmission of information- market, technology and training.
Critical Investments as real value creator for creating appropriate infrastructure facilities- storage, processing; logistics, working capital management etc. VI. Enabling Policy for eliminating barriers in movement of NTFP, taxation issues etc.
To access the complete guidelines of MKSP, click here.
Start-up Village Entrepreneurship Progam
The Start-up Village Entrepreneurship Programme (SVEP) is being implemented as a sub-scheme under National Rural Livelihood Mission (NRLM) to promote start - up enterprises in rural areas.
The SVEP proposes to address following three major problems of rural start-ups
A missing knowledge eco-system
A missing incubation eco-system
A missing financial eco-system
SVEP will hence be a focused intervention to promote start-up entrepreneurship at village level by rural poor households by providing assured availability of need based financial support, capacity building and advisory services for establishment of village enterprises. SVEP envisages creation of sustainable self employment opportunities for a large number of rural poor youth, enabling them to engage effectively with the market and help generate wealth locally. In the process, SVEP will bring banks and financial institutions closer to the village entrepreneur.
SVEP will initially support creating and strengthening of 1,82,200 village enterprises in 125 blocks across 24 States in the country over a 5 year period from 2014 - 15 to 2018 - 19. Based on the success of this initial phase of 5 years, it will be taken up in all the blocks of the country in sync with the roll out of NRLM. This intervention has over the next 12 – 15 years the potential to reach out to and support 1.0 crore rural entrepreneurs and generate employment for more than 2.0 crore persons.
To access the complete guidelines, click here.
National Rural Livelihoods Project (NRLP)
NRLP has been designed as a sub-set of NRLM to create 'proof of concept', build capacities of the Centre and States and create an enabling environment to facilitate all States and Union Territories to transit to the NRLM. NRLP would be implemented in 13 high poverty states accounting for about 90 percent of the rural poor in the country. Intensive livelihood investments would be made by the NRLP in 107 districts and 422 blocks of 13 states (Assam, Bihar, Chhattisgarh, Jharkhand, Gujarat, Maharashtra, Madhya Pradesh, Orissa, Rajasthan, Uttar Pradesh, West Bengal, Karnataka and Tamil Nadu). Distribution of project funds among the states would be based on inter-se poverty ratios.
Source: DAY - NRLM