Introduction
It is hard to imagine our life without the use of various renewable and non-renewable forms of energy. We use energy at every moment of our life:
To lift water - we may use many methods - hands, animals, using pumps-powered by electricity from grid/solar/wind/diesel/kerosene/biogas.
To cook food - whether it be fuels like fire wood, kerosene, LPG and biogas.
For lighting -oil based oil lamps, candles, kerosene lamps, electric lamps
For cooling - hand held fans, electric fans, air coolers and air conditioners.
For preserving food items - refrigerators and freezers – all using electricity.
In kitchen appliances - we use mixer and grinders.
In industrial activities or in transport.
There are different sources of energy non-renewable/conventional and renewable.
| Non-renewable/Conventional | Renewable |
| --- | --- |
| Fuels from coal, petroleum, natural gas are non-renewable since they are going to be exhausted in the immediate future. The use of these sources results in large scale emission of carbon dioxide which contributes to global warming. | Energy from sun, wind, water and biomass (wood, biogas) are inexhaustible and hence named as renewable energy sources. The more the use of these sources, the better are the prospects of humanity. |
Why Panchayats?
As per the 11th Schedule of the 73rd amendment of the Constitution of India - rural electrification, including distribution of electricity and Non-conventional energy sources are subjects to be transferred to Panchayats.
Gram Panchayat can work to:
POPULARIZE
Construction and use of biogas systems in households, schools and Anganwadis.
Energy efficient building designs. Energy efficient cooking devices and habits .
Adoption of energy conservation measures (LED lamps, star-rated appliances).
Energy efficient pumps for irrigation and drip systems.
FACILITATE
Solar energy augmentation in households and public institutions.
Installation of energy efficient chulhas.
electricity connections through appropriate authority / agency for households, commercial establishments, public buildings and irrigation.
How do we begin to plan for eradicating poverty in the Gram Panchayat?
What can our Gram Panchayat focus on while Planning for energy use?
Ensuring access to energy to all for lighting, house hold devices, cooking,irrigation, commercial activities and industries in the Gram Panchayat.
Ensuring energy efficiency in all the appliances.
Ensuring fair share of renewable energy in above appliances.
How do we set targets to achieve the goals?
If these are our goals, what are the specific things we should plan to achieve and by when? Can our Gram Panchayat plan for the following?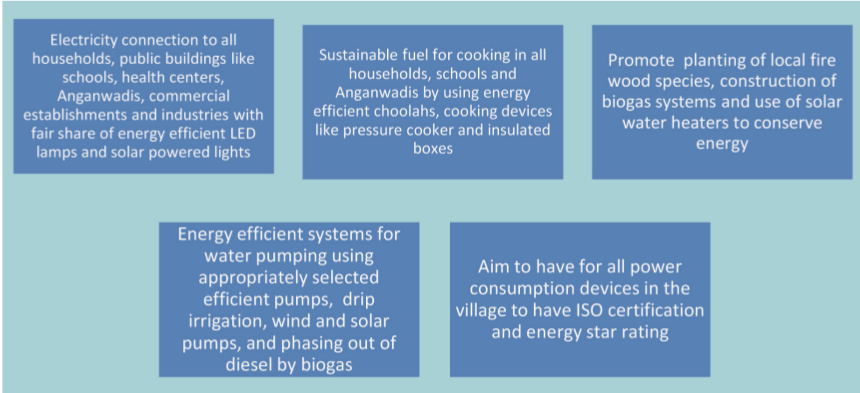 What can a Gram Panchayat Do?
Assess the various needs of energy – for cooking, heating, lighting,irrigation, household food processing, industries, commercial establishments like shops and hotels.
Which are the appropriate sources for these – electricity from the lines,solar, biogas, LPG and so on.
Set the goals and targets for your Gram Panchayat.
Develop a comprehensive energy programme based on need assessment. (See the example which follows)
Initiate a campaign to include all households and establishments in to the energy programmes like electrification of all households, popularization of LED lamps, biogas tanks and many others.
Identify appropriate schemes, state/national/international agencies, their programmes and schemes, non-Governmental agencies and companies which can support the Gram Panchayat energy programme.
Liaison with these agencies and facilitate the process.
Monitoring and problem solving during programme implementation and after.
Resources to look for
Deen Dayal Upadhayaya Gram Jyoti Yojana (DDUGJY)
Various state and central schemes and subsidies for solar pumps, biogas, wind energy
People to support
Traditional masons and helpers, department officials (departments like electricity,renewable energy, rural development), technical and academic institutions like ITI, polytechnics, NGOs.
Here is an example
Steps to be followed if the Gram Panchayat decides for total electrification
While planning for Gram Panchayat Development Plan (GPDP), discuss and decide that the Gram Panchayat should plan for total electrification.
Introduce this to the Gram Sabha.
Form a small group in the Gram Sabha to discuss the details .
While doing situational analysis, include electricity also as a topic.
Organise a quick participatory survey

Who are the people who have an electricity connection.
Who are the people who need a new connection and for what purpose.
Who are the people who can adopt new and renewable energy like solar, biogas.
Why are some people unable to get an electricity connection
For example – lack of funds for electrification, Kutcha houses, houses without necessary documents, isolated households, permission for drawing electric lines to the area.
Estimate the costs with the support of relevant officers from the electricity department, local engineers, any technical institute in the area like ITI,polytechnics.
Decide on the activities - who will do what
Set step wise timelines - by when each of the activities is to be completed.
Decide on the sources of funds – how much is required from households themselves, any subsidies available, any other specific schemes in your state
Also include activities that do not require funds – for liaising with electricity department, (if it is for solar or biogas the appropriate agency in your state),facilitating the process, building awareness, motivating people.
Include these into your GPDP – it has goals, targets, activities, list of beneficiaries, various sources of funds, timelines!
Remember, there are households which cannot afford to pay for these. So,identify agencies and means for addressing their concerns- DDUGJY would be of help to many. Also see whether there are companies, NGOs, charitable institutions, individuals, SHGs who can help specific cases.
Liaisewith the electricity department and other identified agencies
Ensure the timely execution of the programme by appropriate interventions.
Monitor the activities based on the targets and the timeline on a regular basis
How is this exercise linked to Sustainable Development Goals?
Sustainable Development Goal 7 - Ensure access to affordable, reliable,sustainable and modern energy for all.
The Universal Targets
By 2030, ensure universal access to affordable, reliable and modern energy services.
By 2030, increase substantially the share of renewable energy in the global energy mix.
By 2030, increase the global rate of improvement in energy efficiency.
Now look at the goals and targets set by your Gram Panchayat – you are contributing to the SDG goal and targets to ensure access to affordable, reliable,sustainable and modern energy for all!
Source : Handbook on Sustainable Development Goals and Gram Panchayats