Nature's bounty is boundless. Take for example the coconut tree. Its water quenches thirst, its oil nourishes the body, its pulp creates gourmet delicacies and members of Laxmi Self Help Group of Badoli village in Sabarkantha district found out that its coir can sustain an entire community!
Activity
Decorative items from coconut coir, Sabarkantha, Gujrat
Nature of Intervention
The SHG women were trained in creating decorative pieces out of coconut coir and after getting a proper training, the women of the Laxmi Self-Help Group have started making various items such as torans, chandeliers, earthen pots, flower pots, idols of Lord Ganesha, statues of different kinds of animals, decorative wall pieces, etc. The SHG has made over 250 articles of the New Zealand's national bird 'Kiwi' and sent them to New Zealand. Besides this, the Group is making over 400 pieces of 7-feet tall ecofriendly idols of Lord Ganesha during the festival of Ganesh Chaturthi and sending them to various cities like Ahmedabad, Vadodara and Surat for selling. The design of the Ganesh Idol has been divided into as many as 24 different parts and each part has a different wage for making them. Thus, every woman will get the works and the final version of the idol will be beautiful and perfect.
The group is being financed by Dena Gujarat Gramin Bank, Badoli branch.
The Impact
In the last 2-years, the Group has sold the idols of the Lord Ganesha worth Rs. 8-10 lakh. The prices of these idols range between Rs. 1,000/- and Rs. 25,000/-.Till date, the Group has taken part in more than 150 melas (exhibition-cum-sale fair) held in other states. Besides these, the Group also participated in 6-7 international fairs held at Pragati Maidan in New Delhi. The SHG has won the awards for 'Best Stall' and 'Articles' at the fair held in Rajkot. The Group is providing employment to 30-40 local women to earn Rs. 200-300 per day. Besides this, the Group is also providing employment to 70-80 women in different districts such as Bhavnagar, Banaskantha, and Ahmedabad as well as at the religious places like Pavagadh, Ambaji, Khedbrahma.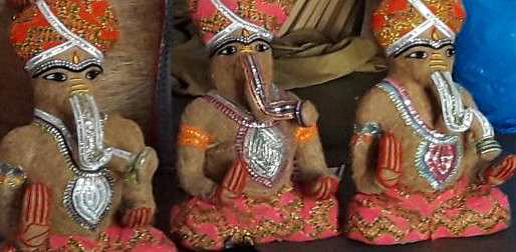 Critical Determinants
Availability of raw material and proper training
Employment at home
High demand for idols
Source : Creating Livelihoods, Changing Lives