Girls and dolls are inseparable in childhood but women of Sarbojaya Self Help Group in Taldangra, West Medinipur district consider them their best friends for life. After all the dolls they make have completely changed their lives.
Activity
West Medinipur being one of the backward districts identified for promotion of Women Self Help Groups (WSHGs) by NABARD, Rural Development Consortium (RDC) the Anchor NGO decided to organize a Livelihood Development Training programme involving doll, crystal and chord bag making for the poorest members of Sarbojaya WSHG in Garbeta I block of West Medinipur district, West Bengal.
Nature of Intervention
After training, the members began production with the help of Bank loan of Rs. 1.00 lakh from United Bank of India, Fatesingpur Branch. The loan was utilized successfully and repaid in time. The SHG up scaled their activity by way of purchasing tailoring machine for each member. The Bank enhanced the loan limit from Rs. 1 lakh to Rs. 3.5 lakh.
Following a request from NABARD and the anchor NGO, district administration provided a marketing space to the SHGs at Karma Tirtha (training cum marketing complex) set up through RIDF loan for selling SHGs produce in the HQ of Garbeta I Block. The SHG also got the tender for running office canteen in the multipurpose building at Medinipur District Collectorate in 2017.
The Impact
The intervention helped the SHG to acquire new skill and upgrade it from time to time. From no income to a profit of Rs. 0.36 lakh per member per annum from the sales of array of products like crystal bag, chord bag, kantha stich, wool product, doll and softtoys and Rs. 0.40 lakh per member per annum from running the canteen. The leader of Sarbojaya WSHG, Lipika Dhaliw as identified as BF of United Bank of India, a master trainer in bag and garment making by block administration and an animator of EShakti project of NABARD. The SHG has been digitized and planning for online sale. All the members of the SHG are digitally empowered and getting financial details through SMS from Eshakti Project.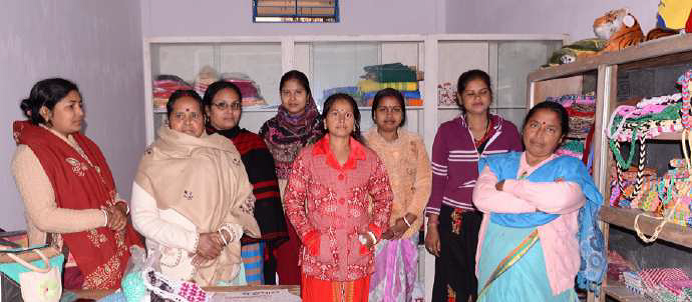 Critical Determinants
Selection of an activity which has visible demand
Timely repayment and updated transaction helped banks to extend hassle free loan
Support and monitoring by the promoting organization
Technical assistance by Master Trainer
Convergence with Govt, District Mission Management Unit and bank
Source : Creating Livelihoods, Changing Lives