With more and more people leaning towards healthier life options, organic food is becoming a lucrative business prospect. In Pudukkottai district of Tamil Nadu, organic food is gaining wider acceptability among the people.
Activity
ROSE, an NGO has been promoting production of indigenous paddy and millet through seed festivals and traditional food mela with the support of NABARD since 2010 in Pudukkottai district. So as to add value to the products and to reach out to the younger generation, an LEDP was sanctioned for training on preparation of traditional millet/rice snacks without lay of Rs.3.86 lakh. ROSE also linked these entrepreneurs with hundreds of its sales outlets existing across the state of Tamil Nadu, parts of Karanataka, Andhra Pradesh, Kerala, Mumbai and Delhi.
Nature of Intervention
Intensive training on indigenous snacks production and marketing, credit linkage and basic infrastructure facilities for preparation and marketing of traditional millet based snacks and bakery items. The programme covered 90 women entrepreneurs in three batches of 30 each. ROSE had already established a standard market for its food processing and value added agro products.
Raw materials such as millet, indigenous rice, oil, jaggery and pulses are procured from the Pudukottai Organic Farmers' Producers Company Limited run by women groups. Supply of inputs like seeds and organic fertilizers / bio-manures etc. is also ensured. The finished products include rice and millet snacks, ready-mix Dosa, Paniyaram, Adai, Puttu, Laddu, Murukku etc which are marketed throughout Tamil Nadu, neighbouring states and even New Delhi.
So far, 16 trainees have been given loans amounting to Rs.26.10 lakh.
The Impact
Prior to the training, the women were able to get Rs.1500 to Rs.2000 per month from agricultural labour. But through this new enterprise, they are getting Rs.4000 to 6000 per month. Each woman gets Rs.300 per day for snack preparation as against Rs.100 they get in cultivation (farm based labour per day). They now get work for at least 26 days a month. A vast majority of the women, viz. 78 have opened their bank accounts and started savings. In last one year they have recorded a sale of Rs.5.21 lakh.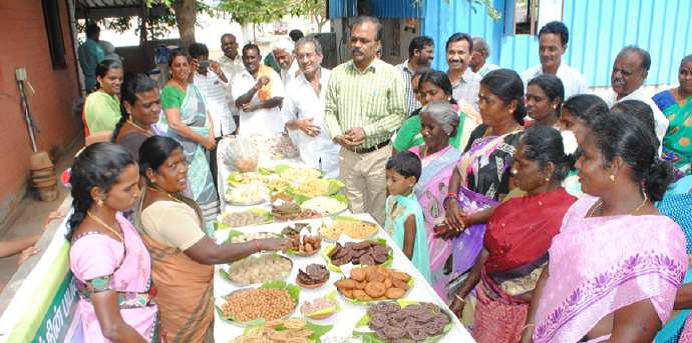 Critical Determinants
Timely credit linkages through banks
Vast marketing linkages created across several states
Support of Pudukkottai Organic Farmers Producer Company Limited (POFPCL)
Quality of snacks and use of Organic raw materials
Source : Creating Livelihoods, Changing Lives