Thousands of candles can be lighted from a single candle, and the life of the single candle will not be shortened. Happiness never decreases by being shared, it only increases. This was amply justified when the smiling faces of 08 aspiring women from Pragati SHG, formed under the NABARD's SHPI programme, were displaying beautifully crafted handmade candles.
Activity
Candle making by Pragti SHG, Chaproli, Baghpat district, Uttar Pradesh
Nature of Intervention
11 women members of Pragati SHG were trained in candle making by Arpit Gramudyog Sansthan at Synd Rseti Baghpat with a grant assistance of Rs.1 lakh from NABARD for the group and Rs.2.25 lakh to RSETI. Field visits at Delhi and Meerut were arranged to provide exposure to the markets where raw materials are available. Village level stalls were arranged during the festive season of Dussehra, Diwali and Navratras by the SHG members. Word of mouth publicity was another marketing strategy adopted by the members. Members also participated in all the Bankers programmes, Prerna divas, Block Level programmes with their products. The group was sanctioned a credit limit of Rs.0.50 lakh each in August 2016 and in May 2018 by the Syndicate Bank.
The Impact
Income - Rs.10,000- 30,000/- per member / month
Out of the working capital investment of Rs 42000/-, SHG has earned till now a profit of Rs. 22000/-. The Group has also trained 06 members of other SHGs for the candle making and thus doing their part in creation of employment and women empowerment. 'Self-help' was the soul and sole principle for the marketing of the candles. Individual efforts were initiated by the members for selling the candles at their village level. Kavita, a member of group has been identified as Samuh Sakhi, and has formed more than 08 SHGs in the village. Pragati SHG has been awarded as best SHG in the Prerna Divas Celebrated by the District Administration in 2017-18. Smt Kavita, President of the group has been awarded by UP administration for her outstanding contribution in bringing women empowerment and is a source of inspiration to other women.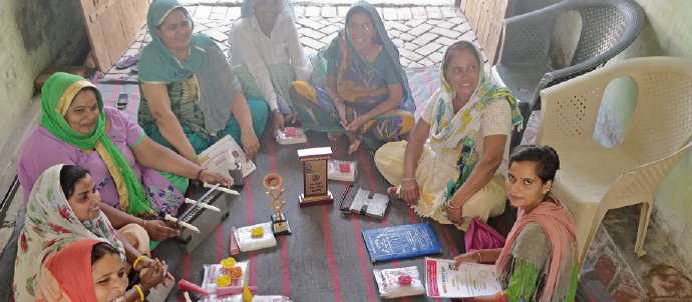 Critical Determinants
A highly motivated group set out to achieve their goals.
Training for the activity.
Source : Creating Livelihoods, Changing Lives