Mother nature has a way of enriching our lives with its abundant gifts to the mankind. Therefore, those whose vocation allows them to stay close to nature are the blessed ones as our SHG members in the district of Purba Medinipur viz. Contai I and Contai II(Deshopran). These women were engaged in nursery activity albeit on a small scale due to lack of proper knowledge/expertise and marketing linkage of the plants grown.
Activity
Developing Nurseries on commercial scale in Deshopran block, Purba Medinipur, West Bengal
Nature of Intervention
NABARD sanctioned an LEDP with grant assistance of Rs.4.90 lakh for 150 members from 25 SHGs to the NGO, Dakshin Charaikheya United Club to improve the knowledge and expertise of the SHGs to take up nursery on commercial scale, linkage and liaison with financial agencies for higher credit limit, tie-up with various input supplier for bulk procurement at reasonable cost, market linkage for better price realization, etc. The training contained both theoretical and practical demonstrations for which a demonstration unit was set up at village Satikeswar in Deshopran block. 7000 pieces of seedlings of various fruits and flower species like lemon, mango, litchi, guava, rose, erica and also various ornamental plants were reared in demonstration unit. The SHG members were inducted as members of two FPOs viz, Bhumi and Gram Vikash Kendra. Quality Vermi compost produced by the FPOs were supplied to its members. Other raw materials like medicines, pesticides, etc. were bulk purchased by the FPOs. The various nursery plants grown by the SHG members were collected by FPOs and marketed to agencies from Howrah and agencies from adjoining states of Jharkand and Odisha as well.
The Impact
Income:For150members,Rs.10,000/-permember/month.
The members are getting a regular market as also a good price for their produce. The total credit limit of 25 SHGs has increased from Rs.37.50 lakh as on 31 March 2017 to Rs.54.20 lakh as on 31 March 2018. Thus the average credit limit of the groups had increased from Rs.1.50 lakh to Rs.2.17 lakh. The programme resulted in enhancement of income level of the rural poor families, motivated the individual producers to work through the FPO and reap the benefits of economies of scale.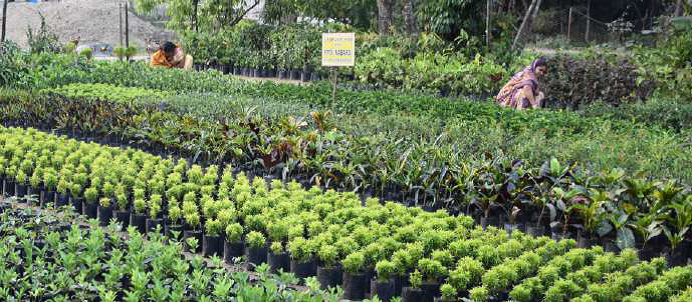 Critical Determinants
Handholding by NABARD and IA
Scientific know-how and use of correct technology
Economies of scale through FPO
Source : Creating Livelihoods, Changing Lives