The art of "terracotta" or "baked clay" is as old as human civilization. Its trail can be traced from Harappa to Ancient Egypt. Yet imagination and artistry can give it a new dimension even now and that's what the members of Nai Roshni SHG are adept at. Nai Roshni is an SHG supported by NABARD and promoted by Abhivyakti Foundation in Banchari Village, Palwal District, Haryana. It has been in existence since May 2013 and within a short span of time has shot to fame on account of its Terracotta products which are the centre of attraction in various exhibitions and fairs.
Activity
Terracotta ware, viz., designer plates, lamps, flower pots, water bottles, cups, utensils. The members were adept potters and with proper training they were producing artisanal quality products but their reach was confined to their own village and a few regulars in and around their district.
Nature of Intervention
NABARD facilitated their bank-linkage and with first bank credit of Rs.0.50 lakh their production took off. However, they did not have proper marketing avenues for sale. Therefore, they were sponsored by NABARD in successive Surajkund International Crafts Fairs which helped them carve a niche for themselves by adding value and finesse to their products. These marketing platforms brought them in contact with dealers and connoisseurs from all over the country as well as from abroad. Buoyed by this success, NABARD has recently sanctioned a rural mart for them at Palwal, Haryana with the hope that it will scale up their production and further enhance the income of members. The SHG, in association with Abhivyakti Foundation has started the rural mart in January, 2018 for marketing of terracota products besides some supporting jute products like bags, files, folders, purses, pencil boxes, etc.
The Impact
As on date, the monthly turnover of the group is approximately Rs. 1.00 lakh by catering to the demands of domestic and foreign clients. The rural mart too has now picked up and is posting a surplus of more than Rs.28,000/- per month.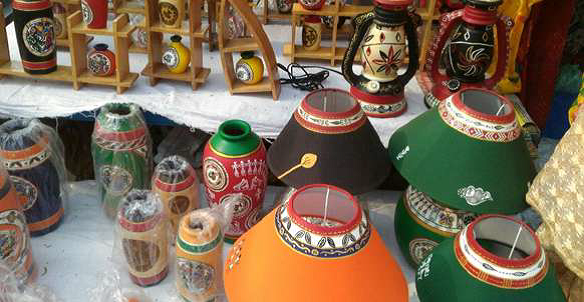 Critical Determinants
Artisanal quality of products
International exposure in exhibitionslikeSurajkundmela
Marketing platform
Source : Creating Livelihoods, Changing Lives