Women are born multitaskers. Jai Gopi Nath SHG is no exception. The SHG was formed in 2012 comprising 10 members of women belonging to ST category. Within a short span of its operation, Jai Gopi Nath SHG achieved several milestones as a start-up firm. It continuously endeavors to create an empowered and competitive position in the market through its services.
Activity
Diversified field of businesses e.g. spices, fruits, herbal products at Chamoli, Uttarakhand
Nature of Intervention
10 Members of Jai Gopi Nath SHG were selected for training and exposure visits on agro-products, species of medicinal plants, etc. with the grant assistance of Rs 3.15 lakh from NABARD. Jai Gopi Nath SHG is associated with FPO Nanda Devi Fal Sabzi Utpadan Evam Vipran Swayatt Sehkarita (NDFSS) since 2015 situated at Distt. Chamoli. NDFSS is a Farmers Producer Organization (FPO) associated with 300 Women SHG groups. They are engaged in livelihood programmes like horticulture, dairy, agro farming and fruit processing. The procurement of raw material and arrangement of regular supply is very good as the location is close to the pilgrimage Badrinath temple. The SHGprocesses the raw materials (agro-produce) procured from farmers in mechanized processingunits. Theagro-herbalproducts are currently soldinStatesof North India under the brand name of 'Choice Natural'. Some of the agroproducts are sold in villages in different parts of Uttarakhand through Didis (trained women staff from villages). The total project cost is Rs 4.50 lakh which includes cost of machinery of Rs 1.32 lakh. As per grading norms, the Uttarakhand Gramin Bank has sanctioned loans in various installmentsofRs.4.00to5.00lakhseach tothegroup.
The Impact
Income- Rs.3500-6000/-permember/month
The grouph as obtained the license from FSSAI that grants legal permission for processing and selling agro and food products. The NDFSS FPO facilitates market linkage through various national and international fairs . The standard of living of the groups members have improved and they have repaired their houses and purchased home appliances.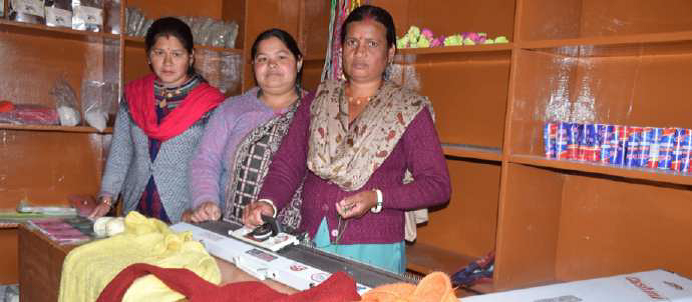 Critical Determinants
Handholding by the branch manager
Vigorous implementation of NABARD WSHG programme by the bank branch
Availability of ready market
Homogeneous background of the group members
Availability of raw materials for the farms from nearby villages
Source : Creating Livelihoods, Changing Lives