Earlier this year in April and May, Buldhana District in Maharashtra's Amravati region found itself home to 4500 migrants who were stranded there during the countrywidelockdown. Through an initiative called Operation Dignity, the district administration provided shelter, medical check-ups, counselling sessions and made arrangements to send the migrants back home.
However, during the 'Unlock' phase, a sea of migrant workers returned to Buldhana. There was felt an urgent need for better integration of these labourers and the district administration strived to come up with innovative solutions.
Consequently, the Buldhana District Administration collaborated with Unicef and came up with the shelter management app, which is now being rolled out in the rest of the state. The app was primarily conceived to monitor migrant shelters. However, by the time it was up and running, most of camps had been emptied. So, it was decided that additional features would be added to include those who came back to the district.
The application enables the district and village administrations to record skill sets, qualifications, Aadhaar and bank details, basic facilities at quarantine centres (like water supply, sanitation, safety, and security), health screening reports for fourteen days.
Additionally, it also captures various demographic data such as age, disability, gender, etc. The data collected was further analysed for skill training, entrepreneurship development and placement of workers as per demand–supply in the local
market, companies and institutions.
The app ensures accessibility of entitlements to the worst-affected citizens and is thus a potent tool of equitable justice in the hands of district administration.
The district administration is very optimistic that this collaborative effort is going to fulfill the tenets of the ambitious Aatmanirbhar Bharat Yojana. With a focused approach on inclusion, this effort has brought to fore the need for equity and inclusion of women, vulnerable social groups, and people with special needs, in terms of skilling, upskilling and reskilling and livelihood generation.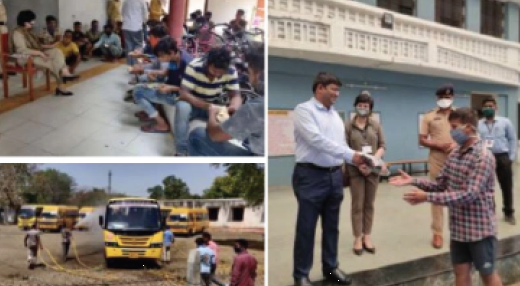 Source : Empowering Migrant Workers through Skill Development and Livelihood Generation