Relief Camp, Site Database
Even though it was one of the worst-hit states, Maharashtra buckled down to extend support to stranded migrant workers. Within a week of the announcement of the nationwide lockdown, the Labour Department started compiling information about sites where migrant workers were present before the lockdown. An online 'Migrant Worker Sites, Relief Camps' data collection form was circulated on 28 March to all district collectors and Labour Department officials. Information about the location of about 3 lakh workers was compiled using this form. A dashboard was also created on Google Forms' response page, showing division- and district-wise summary of the data collected.
This database was also used for providing mid-day meals to construction workers at these sites. As physical distancing and other precautionary measures were strictly followed, no report of any worker testing positive during their stay at the construction sites was reported.
Skill-Mapping Exercise
Following directions by the Ministry of Labour and Employment, the state's Labour Department immediately created a bilingual (Hindi/English) Google form for data collection and skill mapping of migrant workers belonging to three categories:
Those staying at relief camps and shelters
Those staying in-situ at their workplace
Those staying at migrant workers' cluster localities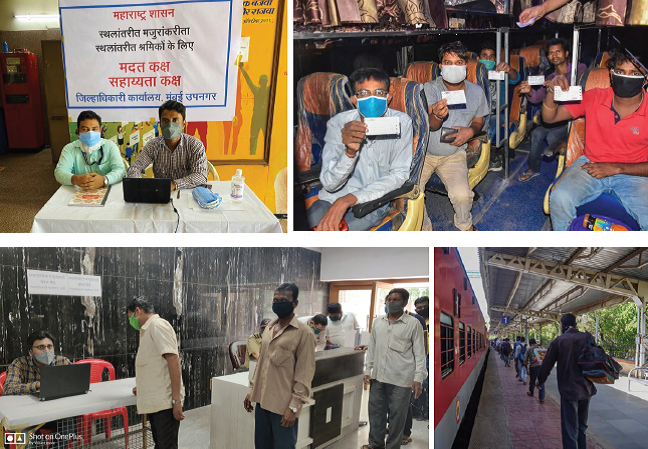 The data collected was used for enrolling the workers under various schemes.
Counselling Centres-cum-Help Desks
To provide assistance to distressed migrant workers, these centres/help desks were established at the district collectors' and district labour offices. The Mahajobs portal has details of schemes available for returned migrant workers and the help desks set up for them.
Mahajobs
The Department of Industries, in association with the Department of Labour and Skill Development, launched an industrial employment bureau or the Mahajobs portal on 6 July. The portal seeks to link all job seekers, locals, migrants, and entrepreneurs by reducing the gap between demand and supply of manpower in different skills, enable industries to function seamlessly, and create a permanent system for industries in the state to get suitable local workers.
Source : Empowering Migrant Workers through Skill Development and Livelihood Generation