Pradhan Mantri Jeevan Jyoti Bima Yojana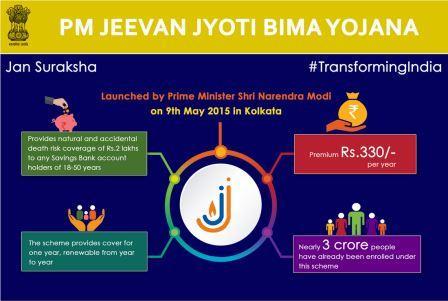 PMJJBY is a one-year life insurance scheme renewable from year to year offering coverage for death due to any reason.
Eligibility
Available to people in the age group of 18 to 50 and having a bank account or a post office account. People who join the scheme before completing 50 years can, however, continue to have the risk of life cover up to the age of 55 years subject to payment of premium.
Premium
Rs. 436 per annum. It will be auto-debited in one instalment.
Payment Mode
The payment of premium will be directly auto-debited by the bank from the subscribers account.
Risk Coverage
Rs.2 Lakh in case of death for any reason.
Terms of Risk Coverage
A person has to opt for the scheme every year. He can also prefer to give a long-term option of continuing, in which case his account will be auto-debited every year by the bank.
Who will implement this Scheme?
The scheme will be offered by Life Insurance Corporation and all other life insurers who are willing to join the scheme and tie-up with banks for this purpose.
How to enrol for the scheme
Enrolments under the scheme can be done by visiting the branch/ BC point or website of the bank of the account holder or at the post office in case of post office savings bank account.
Source: PMJJBY portal
Last Modified : 5/9/2023
© C–DAC.All content appearing on the vikaspedia portal is through collaborative effort of vikaspedia and its partners.We encourage you to use and share the content in a respectful and fair manner. Please leave all source links intact and adhere to applicable copyright and intellectual property guidelines and laws.