Summary
Innovation: To value the girl child by honouring their grandmothers and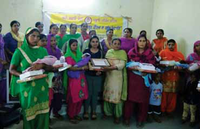 mothers
Duration: Annually
Location: Auditorium or open places at Block level, Fatehgarh Sahib, Punjab
Key Stakeholders: Member of the Legislative Assembly, Government Officers, Community Members, Parents of Daughters.
Brief Description
The District Administration took up an initiative called "Jan Sabha" in 3
constituencies under Beti Bachao Beti Padhao (BBBP) Scheme in which grandmothers and mothers of the Girl Child were honoured by the MLAs. In these events, 50 new born baby girls along with their mothers and grandmothers were honoured with baby care kits, sweets and towels by MLA of that constituency to value the girl child. People from all age groups (around 500) participated in Jan Sabha, so that BBBP message effectively reached every level of the society. The motive of this Jan Sabha was to promote the idea of gender equality, feel proud of her and value the girl child. Resource persons from BBBP spread awareness regarding the message of the scheme "save the girl child, educate the girl child". Drama and performances were imparted by theatre artists and school children on the theme of BBBP and PC & PNDT Act in the form of stories and dances to sensitize and spread awareness at community level. IEC material such as flex boards, hoardings and posters related to BBBP were displayed at District level, block level and village level to generate awareness at the community level.
Factors Contributing to Success
Being honoured by Legislative Members (MLAs) at Block level provided a sense of pride to grandmothers and mothers of a girl child helping them to further value, respect and nurture their girl child without any gender biases. This is a step to change the mindset of people at community level to value a girl child by involving all key stakeholders.
Outcome, Benefits & Impact
This event (s) brought people together from various age groups and fields at a common platform to address gender related issues in society and sensitize them, which we hope will weave everyone together into a common goal of BBBP. It promoted the concept of providing equal status and opportunities to the girl child. The presence of government officials and legislative members lend greater seriousness about the issue and made a long lasting impact in people's mind. Thus made them to re-think and change the age old practices related to "son preferences/ daughter aversion" as well as behavioural patterns promoting gender discrimination thus far.
Challenges and Future Prospects
Mindset change is a slow process and takes even longer time to gain results. These activities should be sustained to create a sharper impact on people's mind-set and behaviour towards valuing Girl Child. This will eventually lead to improved sex ratio by preventing gender biased sex selection and promoting the protection of the Girl Child. Awareness about BBBP scheme converged with other schemes and acts like PC & PNDT Act will bring change in society.