Summary
Innovation : To empower girls with legal knowledge
Duration : Annual
Location : Gwalior, Madhya Pradesh
Key Stakeholders : Police, Department of Women & Child Development, Adolescent Girls, School Teachers, School Administrations.
Brief Description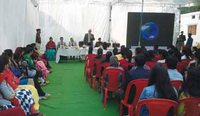 The Police of Indraganj in Gwalior had arranged a visit to a police thana for school girls under the 'Bal Mitra Police' campaign. They conducted regular camps at police stations/institutes near police stations where students, youth, women and locals were invited to attend camps/sessions. Topics like women's security, women's rights, Acts/rules related to crimes against women, cyber crime, etc. were organised. Senior Officers from the Judiciary, Police, Department of Women and Child Development and the District Administration were invited to address the gathering. The sessions were supported by the display of videos, PPTs, etc. The Police also cleared doubts of students regarding the policing system, provision of FIRs, investigation, etc.
Outcome, Benefits & Impact
People are generally reluctant to visit police stations in our country. They are generally not aware of the manner in which the police operate. 'Bal Mitra Police' sensitizes school students and civilians regarding the role of the Police in society and promotes awareness about the legal system, legal rights and available legal aid, etc. that empowers girls and civilians to secure justice and accountability at all levels. The police is increasingly being seen as a friend and protector of society for the more vulnerable ones like women and girls.
Challenges and Future Prospects
There is a gap between the goals of this programme and their application in reality. The sustainability of the knowledge gained and applicability of this knowledge on the ground is essential.