Summary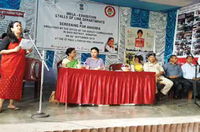 Innovation : To generate awareness on health, nutrition and education among school children.
Duration : One Month
Location : St. Paul's Parish Hall, Nongpoh, Ri Bhoi, Meghalaya.
Key Stakeholders : Department of Health and Family Welfare, Department of Social Welfare, Department of Education, Deputy Commissioner, Additional Deputy Commissioner, Additional Superintendant of Police, District Public Relation Officer, Adolescents.
Brief Description
District Administration organized a one day 'mela' at St. Paul's Parish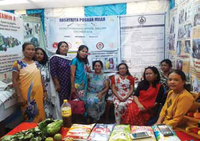 Hall, Nongpoh on 28th September 2018 to sensitize students on the importance of health and nutrition, sanitation and hygiene in convergence with Beti Bachao Beti Padhao (BBBP) scheme. The mela was inaugurated by Deputy Commissioner of Ri Bhoi District and a signature campaign to 'save the girl child' was initiated by Additional Deputy Commissioner of Ri Bhoi. Officials such as Additional Superintendent of Police, District Public Relations Officer, District School Education Officer and District Programme Officer stood in solidarity with the cause. The officials emphasized the role of students in changing mindsets and attitudes towards a more educated and unbiased society. In this mela, a myriad of activities were carried out to encourage the equal participation of girls in every aspect of life.
The most unique aspect of the mela was the setting up of different stalls disseminating information related to education, health, nutrition, hygiene, sanitation, women safety etc. For instance, Department of Health came forward and demonstrated techniques of hand washing, highlighted the importance of separate toilets for girls and boys, safe drinking water and menstrual hygiene. Anganwadi Workers were further enlightened on the importance of a balanced diet and nutrition by displaying a food pyramid that caters to the basic requirements of a human body. A special focus was for adolescent girls in making them aware about key physiological and psychological changes that the human body undergoes. Health department installed a stall where anaemia screening, distribution of sanitary pads and iron folic acid tablets was done for adolescent girls.
Apart from the above stated activities, an open quiz, recipe competition and rally were organized and participants were felicitated. All the participants and officials took the BBBP pledge to save and educate the Girl Child and create an atmosphere where equal opportunities are made available to girls.
Factors contributing to success
Convergence between the Departments of Health, Education and Social Welfare were successfully in synchronization with the objectives of Beti Bachao Beti Padhao (BBBP) at the District level. The series of events emphasized creating a society with gender parity and one that values the tenets of equal opportunity to both girls and boys. The event was successful in awakening the minds of students by motivating them to work as a catalyst to end social evils that are prevalent in the community.
Outcome, Benefits & Impact
Through this mela, 261 school children were apprised about health, nutrition and education related objectives under Beti Bachao Beti Padhao. Through the quiz and discussions, students became well informed about various aspects of the scheme.
Challenges and Future Prospects
Similar activities should be done on a regular basis to ensure that school children remain in the ambit of the scheme and become more sensitive towards unjust social practices.
This level of convergence is a good example to enable the effective implementation of BBBP. This will also help in increasing the Child Sex Ratio in the times to come.