Summary
Innovation :To enable girls studying in government schools in classes 10 and 12 to interact with senior District level officers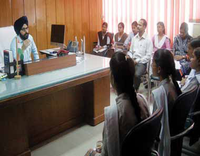 Duration : One Day
Location : Kurukshetra, Haryana
Key Stakeholders : Additional District Collector,Judicial Magistrate,Sub Divisional Magistrate, Block Development Programme Officer,Police Officers,Adolescent Students,School Teachers.
Brief Description
Girls studying in classes 10 and 12 across Government run schools in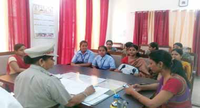 Kurukshetra, Haryana were selected to attend a one day orientation camp called 'My Aim – My Target'.
The selection process involves meeting the criterion of securing 70% in any stream (arts, commerce, medical and non-medical). 995 applications were received out of which 777 were finally chosen. These girls were given the opportunity to interact with senior District level officers like the District Collector, Additional District Collector, Judicial Magistrate, Sub Divisional Magistrate, Block Development Programme Officer, Police Officers and other senior officers.
Outcome, Benefits & Impact
777 young girls gained perspective on the professional life of senior officers at the District level. This activity broadened the horizons of young girls in decision-making related to their careers.
Future Prospects
This initiative has motivated the District Administration to think about supporting adolescent girls in choosing their career path in an effective manner. It would be beneficial for this initiative is scaled up to include technical experts and professionals from different fields.