Introduction
People living with HIV/AIDS face discrimination, especially in the villages, where they are often treated as outcastes. Their children also suffer - whether they have HIV/AIDS or not - as they are treated with contempt in schools and the community. When the parents of these children die, no one comes forward to take their responsibility, not even their relatives.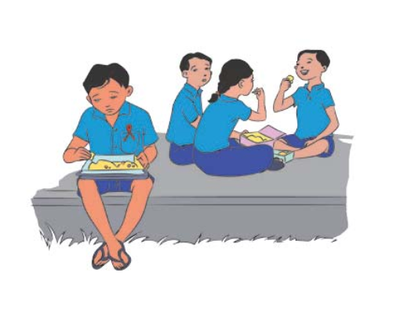 The rights of children affected by HIV/AIDS are violated in many ways. They are discriminated by the community; they are deprived of opportunities of education and development; they are not able to avail proper services, remedies and assistance; they are made to sit separately in schools and sometimes even denied admission in schools. They are left to fend for themselves.
What the law says about children affected by HIV/AIDS
The Indian government has developed policies that work as solutions for children affected by HIV/AIDS. National Aids Control Organisation (NACO) is working towards prevention and cure of HIV/AIDS. While a specific law to protect the rights of HIV positive people is in the process of being formulated, there are certain basic rights that the constitution of India guarantees to all citizens and stand applicable even if a person is HIV positive like, right to informed consent, right to confidentiality, right against discrimination etc.
Role of panchayat members in addressing the issue
It is important that panchayat members are themselves aware of the rights of children affected by HIV/AIDS. This information should be shared with other residents of the village through gram sabhas. If a case of HIV/AIDS comes up in the village, the panchayat members should seek assistance from the government for protection of the affected children.
Source : NCPCR handbook on Safe Childhood Programme for Panchayat members