Chabhari and Binna are made up of wild grass and palm leaves. Chabhari is a traditional tray or container that are used to store and serve things on, to guests and family member. Binna was in past used by home members to sit on, in the traditional way. The SHG members are involved in the trade, sourcing everything locally. This craft is used for making coasters, wall decorations, pen stand, roti box, jewellery box, and laundry bags. Jammu Kashmir Rural Livelihood Mission (JKRLM) intends to revive the old tradition and modernise the craft, so that it's usable and useful. This initiative is eco-friendly and is supporting SHG women member's economy and their livelihood.
Traditional grass handicrafts are considered to be major avenue of the cultural heritage in the rural areas of Jammu & Kashmir, transferred from one generation to the other. It is a artisanal work where useful and decorative products are made completely manually, using simple tools only and raw material like grass, palm leaves which are easily available. Many SHG women were involved in this work in an unorganised way and generally used to make them for domestic use and if at all sold it was at a abysmally low rate. However, with increased demand of eco-friendly products, they fetch higher prices now.
After identifying the scope of this livelihood activity" Chabhari and Binna(Aasan), surveys were conducted by JKRLM to identify the women artisans and after identification, grass handicrafts workshops were conducted in the rural villages, like Kheral, Malair and Saloon in the district of Reasi, Identified SHG members were trained on this traditional handicraft, many skill development trainings were imparted to support and increase their capacities, many initiatives have been taken by JKRLM and District administration Reasi, for the purpose of empowering women and create alternate source of income for them. This has in turn promoted premium grass handicraft product for the market, expansion of production base for utility based, life style and mass production handicrafts products. This initiative supports the preservation and protection of traditional languishing craft.
100 SHG members of "Naari Ki Pehchaan Cluster level federation are involved in the activity and financial support for training and raw material is being provided by JKRLM.
The intervention faced several challenges. There was lack of identity among the artisans of grass handicrafts, as the artisans were not getting their due recognition and lot of efforts went to organize them into a Cluster. The hurdles such as, low financial returns from the products as compared to the labour, lack of information about the market and marketing, latest market demand, competition with machine made products, lack of infrastructural facilities and lack of interest amongst the new generation towards this craft were addressed.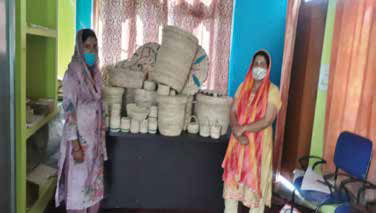 Many workshops are organized at rural and urban level that enhanced the skills and also the knowledge of the SHG members. Skill showcase, design education, creative and product development workshops followed by the pricing, marketing, branding and micro financing etc were organised for the women to make them equipped to do business successfully. They were also made to understand promotional strategies for the modern market and understand space of their products in the market and fixing of price according to that. They were made updated and trained to adopt strategies to mix old and new designs to strike a balance. The SHG women were sensitized to adopt this livelihood as a supplementary source of income. Handholding support was provided to increase interaction with the online shopping sites and government t departments for sale of the products, which also helped the SHG members to know about the consumer preferences. JKRLM Initiated awareness programme to create collaboration between the artisans and urban designer to promote it as a brand together and explore opportunities.
This venture has played a key role in empowering SHG women who are now confident of their skill and have become financially independent. The response to the products from the market has been overwhelming and the group has delivered orders to many Government departments. Many online shopping sites, universities and many other rural and urban customers are amongst their clientele. The turnover of Rs 1.25 lakh in a span of 6 months only with input cost of Rs 10,000 only , speaks of the endeavour.