Bark eating caterpillar
Biology:
Eggs: 50 on bark in May-June, larval period is about 8-11 days. Spherical eggs, usually singly, are laid in bark cracks. No. of generation : 1/year
Larva: Larval period 8-10 months till about 3rd week of April. The larval stage is for about 10 months. The larva is brown to black, shiny, sparsely hairy and measures 4.5-5.0 cm before pupation.
Pupa: Pupation inside larval tunnel, pupal period is about 21-41 days.
Adult: Moth is creamy white with brown markings on the forewing. Moth longevity is 3 days.
Life cycle:
Damage symptoms:
Make tunnels in the main trunk and branches
Larvae construct loose irregular webbing of silken threads
Deterioration of vitality, reduction in yield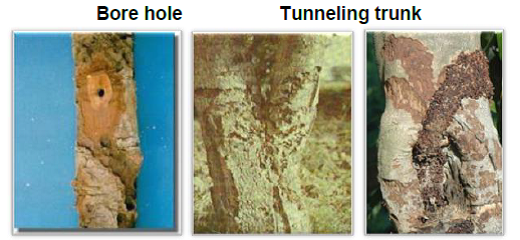 Favourable conditions:
Attacks in April at initiation of new growth after dormancy
Apical twig gall maker
Damage symptoms:
In the beginning of the infestation terminal shoots swell, which increases in size with the passage of time.
The young insects penetrate from apical portion of the shoot after the monsoon and feed inside the tissue, changing into galls. Growth of shoot is hampered and few lateral shoots develop below galls
Full size galls can be seen in the month of October-November
Favourable conditions:
Favourable condition is rainy season.
Attacks during monsoon on onset of new growth
Aphids
Biology:
Eggs: Eggs hatch after one or two days. Young aphids are called nymphs.
Nymph: Oval or slightly elongated, reddish brown with six segmented antennae.
Adult: Aphids reproduce in two ways: by laying eggs and laying live young, which birth process is depends on environmental conditions and the availability of food. When food is plentiful, aphids give birth to live young. Populations develop quickly as this pest has many young, a short life span and pre-adult insects can also give birth.
Life cycle: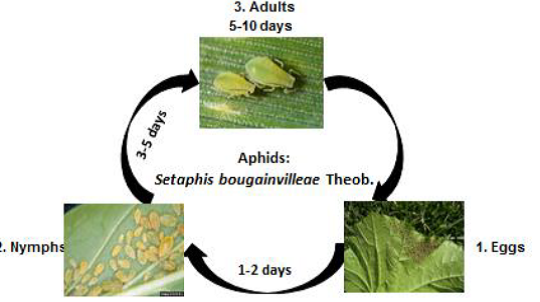 Damage symptom:
Nymph and adults suck sap by remaining on the under surface of leaves
Yellowing of leaves wit sugary executes (honey dew)
Favourable condition:
The incidence of this pest is mainly seen from July to October with the peak period in September.
Natural enemies of aphids:
Parasitoids: Aphidius colemani
Predators: Dicyphus hesperus, Lacewing, Ladybird beetle
Mealy Bug
Biology:
Nymph: Yellowish to pale white.
Adult: Females apterous, long, slender covered with white waxy secretions Incubation period 3 to 4 hours. Egg masses on leaves under female. The developmental period of nymph of male and female varies from 31 to 57 and 26 - 47 days respectively. Longevity of male is 1-3 days and female is 36-53 days.
Life cycle:
Damage symptoms:
Insect covers tender growing points with white mass and suck the sap
Nymphs and adult female remains clustered on ventral surface of leaves, terminal shoots and sometimes on fruit and suck cell sap and reduce the plant vitality
Yellowing of leaves, premature shedding of fruits
Favourable condition:
Moist and warm conditions are most favourable Natural enemies of mealy bug: Predetors: Chrysoperla spp., Coccinellids spp
White fly
Biology:
Egg: Females lay eggs in a line near the midrib or anywhere on the lower surface of the leaves. Eggs are yellowish with a small curved stalk. Colour changes to black about two hours after the eggs are laid.
Nymph & Pupa: Neonate nymphs are pale yellow in colour, flat and oval in shape, later turn shiny black. Its body is surrounded by fringes of wax. The fourth instar being the pupal stage, is flat, oval, grayish in colour and slightly bigger than the nymph. There is a 'T' shaped white marking on the thorax, which splits at the time of adult emergence.
Adult: Pale yellow body with hyaline wings dusted with waxy bloom, exhibit brisk fluttering movements
Life cycle: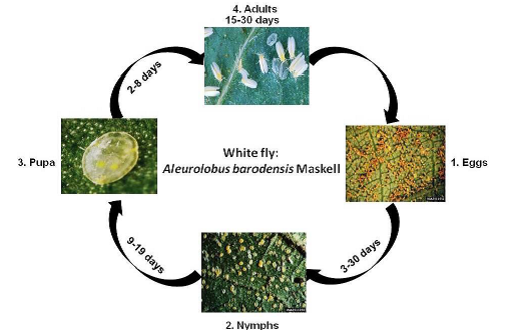 Damage symptoms:
Yellowing of leaves
Leaf turns pinkish or purple and later gradually dry.
Infested leaves show white and black dots.
Natural enemies of whitefly:
Parasitoids- Nymphal and pupal: Encarsia formosa, Eretmocerus sp.
Predators: Dicyphus spp., Lacewing, Ladybird beetle, .Big-eyed bugs, Hesperus spp. (mirid bug)
Pomegranate/ Anar butterfly
Biology:
Eggs: On calyx of flowers or on fruits, egg period is about 7-10 days.
Larva: Short, stout, dark brown with short hairs and whitish patches all over the body and 2 cm long. Larva: Larval period is about 18 to 47 days.
Pupa: Pupation inside the fruit or on fruit stalk, pupal period is about 7-34 days.
Adults: Medium sized, males are bluish violet while females are brownish violet with orange patch on forewings Life cycle: 1-2 months. No. of generation are 4 per year. Pest is active throughout the year.
Life cycle: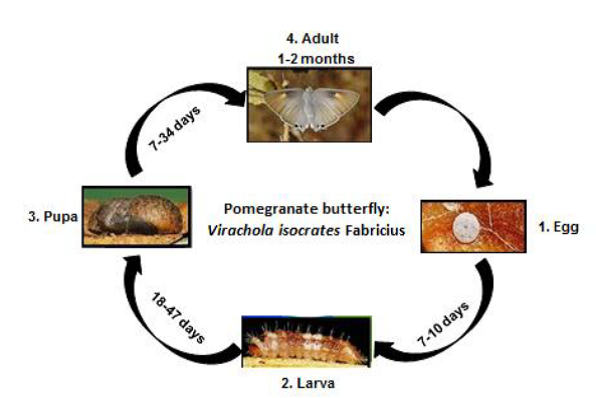 Damage symptoms:
Caterpillars bore the fruits, feed on pulp and seeds.
Damaged fruits subsequently get infected by bacteria resulting in rotting of fruits.
Such rotten fruit gives offensive smell and fall down.
The excreta of the larva around the entry holes are seen.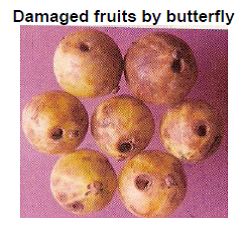 Favourable condition:
Attack of this insect occurs during September-October, coinciding well with the fruiting
Leaf miner
Biology:
Eggs: Females lay eggs in the evening and at night. Each egg looks like a water droplet. Immediately after hatching (2 – 10 days depending on weather conditions), larva immediately enters the leaf tissue and begin feeding.
Larva: Fully developed larvae are minute (1/8" or 3 mm), translucent greenish yellow, and located inside the leaf mine.
Pupa: Larvae go through four stages of moults (instars) and development to pupa takes from 5 – 20 days. Pupal stage lasts 6 – 22 days.
Adults: Adults generally are too minute to be easily noticed. Active dusk to dawn. Life cycle takes 2 – 7 weeks to complete, depending on temperature & other weather conditions.
Life cycle: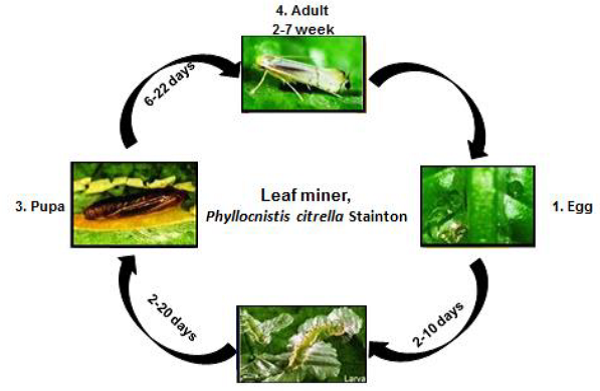 Damage symptoms:
Newly emerged leaves are preferred feeding sites
Larvae may also form mines in succulent stems and sometimes fruit.
Larvae feed by creating mines on the underside of young leaves
Severely damaged leaves typically become curled and distorted
Natural enemies of leaf miner:
Parasitoids: 1. Pnigalio spp. 2. Closterocerus spp
IPM for Amla
To know the IPM practices for Amla, click here.
Source: NIPHM; Directorate of Plant Protection, Quarantine & Storage