White grub
Biology:
Egg: A female lays on an average of 27 eggs in the soil, which are pear like white enclosed in earthen cells.
Grub: Fleshy 'C' shaped, whitish yellow in colour found close to the base of the clump.
Pupa: Pupae are tan to brown, and occur deeper in the soil in earthen chambers
Adult: Adult beetles are a rusty-red color just after emerging from the pupal stage, but turn nearly black
Life cycle: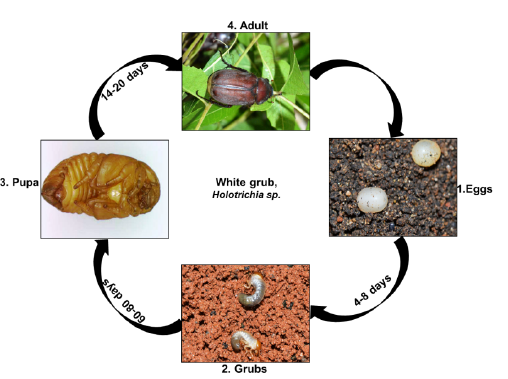 Damage symptoms:
Yellowing and wilting of leaves.
Drying of entire crown.
Affected canes come off easily when pulled.
Cause extensive damage to roots and base of shoot.
Biological control of root grubs:
Entomo Pathogenic Nematodes seek out and kill all stages of harmful soil-dwelling insects. They can be used to control a broad range of soil-inhabiting insects and above-ground insects in their soil-inhabiting stage of life
Aphids
Biology:
Egg: Eggs are very tiny, shiny-black, and are found in the crevices of bud and stems, of the plant. Aphids usually do not lay eggs in warmer parts of the world, but reproduce parthenogenetically all through the year on different host plants.
Nymph: Nymph (immature stages) are young aphids, they look like the wingless adults but are smaller. They become adults within 7 to 10 days.
Adult: Adults are small, back to dark brownish colour, 1 to 4 mm long, soft-bodied insects with two long antennae that resemble horns. Most aphids have two short cornicles (horns) towards the rear of the body.
Damage symptoms:
Nymphs and adult aphids suck plant sap from leaves, shoots, buds and floret.
In addition, plants may become contaminated by honeydew produced by aphids and sooty mould growing on honeydew.
Aphids are also vectors of diseases, including the common bean mosaic virus.
Natural enemies of aphid:
Parasitoids: Lysiphlebus sp, Diaeretiella sp, Aphidius colemani, Aphytis spp., Lipolexix scutellaris etc.
Predators: Ladybird beetles (Coccinella septempunctata, C. transversalis, Chilocorus spp., Chilomenes sexmaculatus, Brumoides suturalis), Chrysoperla spp., anthocorid bug, mirid bug, nabid bug, carabid beetle, earwig, spider, hover flies, etc
Spotted pod borer
Biology:
Egg: Eggs of the pod borer are pale cream and flattened. The eggs are laid on or in the flowers (inserted between the petals).
Larva: Larvae are pale cream with two rows of distinctive paired black markings on their back. In the final instar, these markings are often very pale. Larvae can reach 18 mm in length. Young larvae feed inside flowers for 5-7 days before moving to the pods. After completing their development (10-15 days from egg hatch), larvae exit pods and pupate in the soil.
Adult: Moths have a 20-25 mm wingspan and a slender body. They have brown forewings with a white band extending two-thirds down the wing from the leading edge. Inside this band near the leading edge is a white spot. They live for an average of 6-10 days, each female can lay up to 200 eggs.
Life cycle: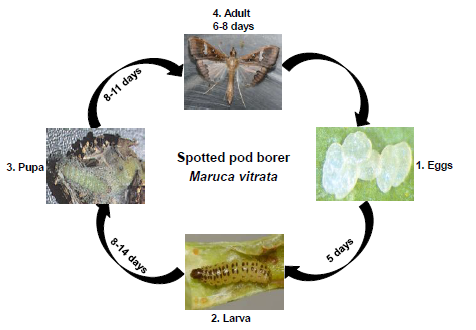 Damage symptoms:
Bore holes on the buds, flowers and pods
Infested pods and flowers are webbed together.
Seeds within damaged pods are totally or partially eaten out by the larvae.
Entry holes also let in water, which stains the remaining non-eaten seeds.
Natural enemies of spotted pod borer:
Parasitoids: Trichogramma spp., Tetrastichus spp., Telenomus spp., Chelonus spp., Campoletis spp., Bracon spp., Carcelia spp. etc.
Predators: Lacewing, ladybird beetle, spider, red ant, dragonfly, robber fly, reduviid bug, praying mantis, King crow, wasps, common mynah, Geocoris sp, earwig, ground beetle, pentatomid bug (Eocanthecona furcellata) etc
Pod bugs: Clavigralla spp.
Damage is caused at flowering stage onwards to developing pods.
Biology:
Eggs: are laid on the pods or leaves in groups of 5-10. Females lay up to 437 eggs each over a period of 150 days. The mean incubation period varies 4 to 20 days depending on weather conditions.
Nymphs: develop into adults taking 10 to 30 days. There is considerable overlapping of generations and six generations often occur in a year.
Adults: The adults can live up to 150 days, the usual period being 1-2 months. Adults are brown (light to dark) in colour with typical protruding pronotal spines
Root knot nematode
Biology:
Most species of plant parasitic nematodes have a relatively simple life cycle consisting of the egg, four larval stages and the adult male and female. They are microscopic in size.
Development of the first stage larvae occurs within the egg where the first moult occurs. Second stage larvae hatch from eggs to find and infect plant roots or in some cases foliar tissues.
Under suitable environmental conditions, the eggs hatch and new larvae emerge to complete the life cycle within 4-8 weeks depending on temperature.
Nematode development is generally most rapid within an optimal soil temperature range of 21-2680°F.
Life cycle:
Life stages are microscopic in size
Damage symptoms:
Infections occur in patches in the field
Formation of galls on host root system is the primary symptom
Roots branch profusely starting from the gall tissue causing a 'beard root' symptom
Infected roots become knobby and knotty
In severely infected plants, the root system is reduced and the rootlets are almost completely absent. The roots are seriously hampered in their function of uptake and transport of water and nutrients
Plants wilt during the hot part of day, especially under dry conditions and are often stunted
Nematode infection predisposes plants to fungal and bacterial root pathogens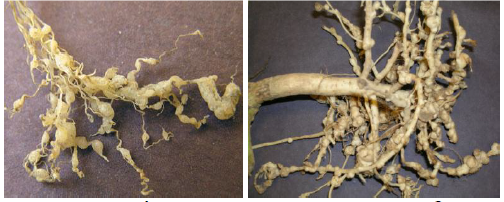 Survival and spread:
Primary: Cysts and egg masses in infected plant debris and soil or collateral and other hosts like Solonaceous, Malvaceous and Leguminaceous plants act as sources of inoculum
Secondary: Autonomous second stage juveniles that may also be water dispersed
IPM for Mothbean
To know the IPM practices for Mothbean, click here.
Source: NIPHM; Directorate of Plant Protection, Quarantine & Storage