The Rumal is a Persian word for handkerchief, a square piece of cloth, and the term Chamba Rumal is associated with for the embroidered work done on the hand spun "khaddar" or a fine muslin cloth, which is in square and oblong format.
History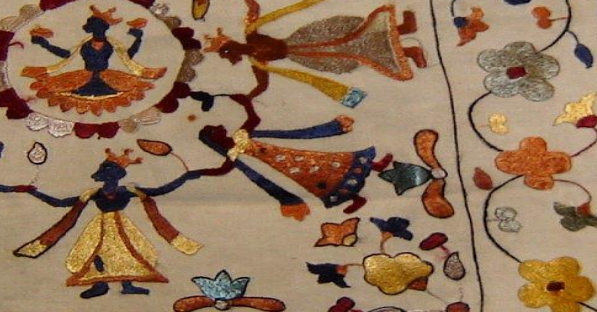 Chamba Rumal is a pictorial craft that represents unique embroidery, which originated and flourished during 17th –18th centuries in Chamba town in the State of Himachal Pradesh.
In fact "Rumal" is a Persian word which means a handkerchief. However, the embroidery work done on a hand spun khaddar or a fine muslin cloth which is in square format, is known as Chamba Rumal.
The Chamba Rumal derives its inspiration from Paintings in their general layout and themes, there is a predominance of figures of deities, especially of Vishnu in his different forms.
Uniqueness
The "dorukha-tanka" the double satin stitch that is used in the Chamba Rumal embroidery is unique, which is not noticed in anywhere else in Indian embroidery tradition. This stitch placed closely side by side brings such extraordinary effect that the embroidery comes out strikingly identical on either side of the Rumal. Knot does not appear in the threads used in embroidery. The drawing is done in the outline with fine charcoal and brush by painters well – versed in Pahari painting.
Registration as Geographical Indication
Chamba Rumal was registered Geographical Indications of Goods (Registration and Protection) Act,1999 on 22 January 2007.
Source : Himachal Pradesh Council for Science, Technology & Environment,