In order to minimize the academic loss to the students of government schools, the Directorate of Education has made comprehensive plans involving all stakeholders, namely students, parents, teachers, Heads of Schools, Teacher Trainers and administrators, to resume teaching-learning activities for the students of Govt. schools of the Directorate of Education through digital and online tools and also to handhold the students through this difficult period:
For students of KG to Class VIII (5.74 lakh students Approx)
Daily subject agnostic generic activities (in three cohorts ie KG to 2nd, 3rd to 5th and 6th to 8th).
Happiness activities (KG to 8th).
Online Happiness Class for family daily at 4 pm conducted by teachers of DoE
Mission Buniyaad Activities (class 3rd to 8th).
For students of classes IV to XII
Live online classes are being conducted for students who appeared in class XI Exam (1.65 lakh approx) and are waiting their results and almost 1.33lakh willing students have enrolled for such classes .(more than 35 thousand are attending live session as on date)
For students of class 9th, current & previous session (4.5 lakh student approx.) online classes would be starting in June in partnership with Khan Academy.
Students of classes 9th to 12th are attending online Entrepreneurship Mindset Activities.
Class 10th and 12th students (those who have appeared for the board exam this year) are attending online English and Personality Development Class
School Education
Online and SMS/IVR supported learning from home for children of Delhi Government schools - commenced on 2nd April and formally concluded on 31st May (last activity on 4th June 2020)
5 programmes to support the learning of children across all classes of Delhi Government schools
Live online classes: class 11
Everyday English and personality development: classes 10 & 12
Online Maths classes: class 9
Digital Entrepreneurship Mindset class: classes 9 to 12
Happiness, Mission Buniyaad and general activities through parents: KG to class 8
"Online Happiness Class for family": 15 sessions for parents and children together viewed on an average by 40,000 families
About 9 lakh students and parents of Delhi Government reached.
Live online classes: students of class 11
Launched on 6th April and concluded on 30th May, 2020 in partnership with Career Launcher
Live online classes conducted by 54 teachers of Delhi Government in 11 subjects
14 sessions of 90 minutes each conducted for every subject
85% students of Std 11 of Delhi Government registered for live online classes
Maximum attendance ranged from English, the highest at 60,500 children and Biology the lowest at 11,200.
105 hours of live online classes conducted for each of the three streams- Science, Commerce and Arts. In school, during the corresponding period, 94.5 hours of teaching in the classroom could have been conducted.
Online class provided 10.5 extra hours of teaching learning to students
Everyday English and personality development: students of classes 10 and 12
Launched on 4th May and concluding on 2nd June 2020 in partnership with British Council and Macmillan Education
Upto 83,545 children accessed the content on two themes- Everyday English and Personality Development
Most popular activities among children were Sunday grammar games & worksheets, Sports and hobbies activities, Making Friends and Media literacy
Between first and second assessment, conducted at an interval of 10 days, the proportion of students scoring more than 70% increased from 29% to 41%.
Online Maths classes: students of class 9
Launched on 27th April and concluded on 29th May in partnership with Khan Academy
90 minutes of class spread over three days a week for new and old cohorts of class 9 students.
Topics on foundational maths for new batch and 4 topics of practice for old batch
About 1.75 lakh students which is 36% of the total enrollment, accessed all the lessons
56 teachers managed the Helpline to support the children in accessing the content
1015 teachers participated in an online training by Khan Academy to guide the students of their respective schools
Digital Entrepreneurship Mindset class: students of classes 9 to 12
Launched on 16thApril by the EMC team of Delhi Government and concluding on 4th June 2020
Extensive use of Social Media (Facebook, Instagram, Twitter), WhatsApp, YouTube and SMS to reach out to the students
10 activities for students on 5 themes- creativity, self awareness, managing fear, dream big and decision making shared
Two live interactions with accomplished entrepreneurs organized, two more scheduled for 3rd and 10th
June 2020
About 45,000 students participated in conducting the activities
Happiness, Mission Buniyaad & activities through parents students of KG to class 8
General activities through SMS to 5.7 lakh parents of classes KG to 8 launched on 2nd April and concluded on 30th May.
52 general activities shared on the themes including health and hygiene, art and craft, COVID awareness.
Happiness class related stories and activities through IVR via missed call to 5.7 lakh parents of classes KG to 8 launched on 12th April and concluded on 30th May 2020.
Total 25 stories/activities shared with parents on every alternate days
Mission Buniyaad activities and stories to promote reading, writing and numeracy through IVR via missed call to 5.2 lakh parents of classes 3 to 8 launched on 13th April and concluded on 31st May 2020.
Total 25 stories/activities shared with parents on every alternate days
All the SMS/IVR for primary grades children also shared with about 4 lakh parents of Municipal Corporation schools in Delhi starting from 4th May 2020.
Teachers Education
Online Capacity Building Programme (OCBP)
SCERT, Delhi introduced an Online Capacity Building Programme (OCBP) to connect and equip the teachers posted at different locations in Delhi. The aim of OCBP is to provide specific topic based pedagogical support to its teachers and build their capacity in effective classroom transaction. The trainings are mapped as per the annual academic calendar of schools. The programmes have been prepared by faculty of SCERT and Mentor teachers with technical support from Million Spark foundation by focusing on In-class resources (How to plan & teach my next class?).
The training is provided through the web www.chalklit.in & App "Chalklit". (Available on android & IoS platforms). This online capacity building programme enhances the sharing between the teacher and teacher; teacher and teacher educator. This programme is available 24*7 to the teachers and they can do the training at their own place, at their own pace without disturbing their routine work. This online platform also provides the teacher community to connect their peers online for help raise their concerns and get solutions from within the community. From 2016-2020, approx. 1,22,863 teachers are trained and awarded certificates through online mode.
During the COVID-19 epidemic lockdown period, SCERT Delhi has organized two Online Capacity Building Programme for teachers on the topics "Eliminating Corporal Punishment" and "Entrepreneurship Mindset Curriculum Orientation". In both the online training programs approx. 55,058 teachers are trained and awarded certificates.
SCERT and DIETS have also organized webinars on different topics for students and faculty members.
SCERT, Delhi is organizing a Lecture Series- 'Learning Never Stop (LNS)'on various topics in the field of School Education and Teacher Education. The main purpose of this lecture series is Capacity Building/Learning Enhancement of students, teachers and would be teachers during COVID-19 epidemic situation.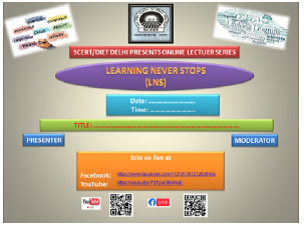 SCERT, Delhi organizes In-service Teachers Training Programme. For this academic year (2020-21), due to COVID-19 epidemic situation, SCERT, Delhi is going to organize the said training programme through online mode. For smooth conduction of said training programme, SCERT, Delhi has developed a mobile application i.e. DELHI SCERT INSET which can be downloaded from google play store. The said INSET training will be streamed on facebook and youtube.
Source : Remote learning initiatives across India - India Report - Digital Education