E-Content Portal
So far, there was incomplete audio-visual e-content for all subjects. This changed with the creation of e-content (audio-visual classes) for all subjects (over 200 in number) and for all classes (1 to 12) in bi-lingual mode. The Department of education, Manipur, is working with a large number of teachers for taking classes as well as curation work. The class wise content is now getting produced and uploaded on a dedicated website SAMAGRA SHIKSHA and also shared on a mobile app called 'Lairik. (which means 'book'). In addition, this content is also uploaded in "Department of Education Schools Manipur'' Youtube channel and Facebook page.
Community Radio / AIR / Cable TVs
The Department has also started broadcasting through Radio, other community radios, and local cable TV channels to reach out to maximum number of students.
E-Textbooks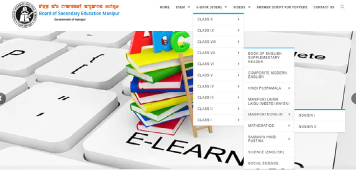 Textbooks prescribed in the State board were never available in a digital format. After the lockdown, textbooks for class 1-10 have been digitized and e-textbooks are now available on Board of Secondary Education Manipur and also in mobile app "BOSEM eBook".
Comic Textbooks
To supplement learning and make learning fun, comic textbooks for classes 3-5 (containing Language, EVS, Maths) have been developed, a part of which is available in e-format. These Comic textbooks have covered all chapters in the textbooks.
Further plans
Reaching out to the last mile is the most important criteria to ensure that learning takes place. Identification of Shadow areas (of internet & power supply) and underprivileged sections without proper access to either mobile, TV or radio are being undertaken. Providing equipment and alternative mechanisms in these areas is being worked out so that contents can be pre-loaded and access is ensured. Swayam Prabha is also to be launched with a month's content available for telecast.