In the present scenario due to Covid-19, digital/online education becomes a necessary platform for students to continue their studies. Under the edges of Digital/Online initiative, the Department of School Education, Punjab is already providing Online Education to the students by various modes like Mobile App(s), YouTube Channel (named "Edusat Punjab") Radio, E-books, WhatsApp and various DTH/Cable TV Channel.
EDUSAT Content through Satellite Network (ROT)
The initiative was taken to enhance the learning level of students by providing them quality multimedia based Econtent for better understanding of concepts. However, in remote areas having lack of teachers and internet facility, Edusat ROT (satcom) is one the best medium to provide education Training Sessions, English Speaking Skills, meet a Scientist, Meet a Personality, Motivational Lectures, Competitive Coaching/Examination Preparation, Traffic Awareness, Health Tips etc. programs through EDUSAT Satellite Network ROTs (Receive Only Terminals) in 3289 Schools for 6th to 12th classes
(Presently, no telecast on EDUSAT, because ROT are installed in Schools and schools are closed due to COvid-19, but in order to substitute the content broadcasted through Edusat the same has been provided via YouTube channel).
DTH TV Channels
Daily 4 hrs slot on DTH channel Swayam Prabha-20 for 6th,7th,8th,12 Classes (available on DD free dish, Dish TV, Fastway cable , Jio TV App)
Daily 7 hrs slot on DTH/Cable TV channel DD Punjabi for 9th, 10th, 11th (Sci), 12th (humanity) and Primary (3rd-5th Classes) available on DD Free Dish, Airtel Dish, Videocon d2h, Tata Sky, Fastway Cable, Dish TV, Sun Direct and Reliance Big TV.
Radio
Audio content specially Language based subjects being delivered on Akashwani Radio at regional level.
EDUSAT Content through YouTube Channel (named Edusat Punjab)
Hindi, English, Maths, Science, Social Science, Computers, Physics, Chemistry, Biology, Punjabi, Special Programs, Training
Sessions, English enhancement Skills, for various classes, 2000+ video lectures,
19668 hours watch time, 619155 viewers so far.
Mobile Application & System Software (named iscuela learn)
Explanation Videos, Animations, Practical, Models, Practice Questions, Assessments, PDFs, Slides, Recorded Classrooms on TV for 1st -10th classes
Total Application downloads 81099 ; Usage in hours 109504
Way forward is to prepare 700 topics for Class 11th & 12th along with new application Platform(s)
E-Books and Month-wise eBook Distribution
Created during Lockdown and is being used by all the teachers and students having Internet Access.
Month-wise eBook Distribution through Google Drive to students from classes 1 to 12 is to make available the content in different forms. The content is made easier for the students to download and study from syllabus based eBooks on day/week/month-wise as per the planned curriculum and to bring uniformity in the teaching/learning process.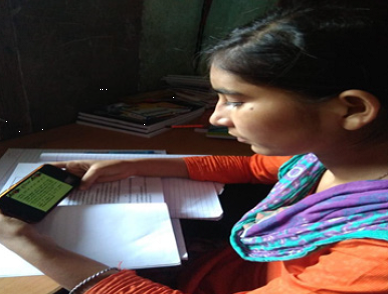 WhatsApp: Teachers have been created WhatsApp groups of their respective classes in which learning material, e-content, assignments and other information is shared on a daily basis.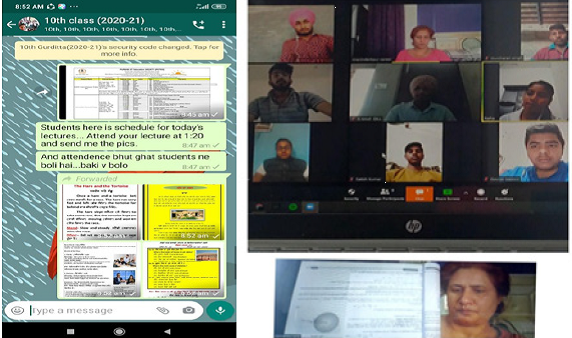 Online Learning Platform
During this covid-19 situation online classes are conducted through teachers with the help of various online methods/Apps by one to one interaction mode.
ICT Computer Labs and Smart Classrooms
6130 Govt. Schools have been provided well equipped computer labs. Apart from this, 4170 Multimedia Devices like LFDs (large front display), LCDs, KYANs have also been provided in schools for joyful learning of students. 8061 Smart classrooms have also been set up in Govt. schools and 5594 smart classrooms are in process.