The Desertification and Drought Day – until this year known as The World Day to Combat Desertification and Drought is a United Nations observance day held on 17 June each year.
Desertification and Drought Day was officially declared by the UN General Assembly as "World Day to Combat Desertification and Drought" (The resolution A/RES/49/115).
It aims to promote public awareness of international efforts to combat desertification. The day is a unique moment to remind everyone that land degradation neutrality is achievable through problem-solving, strong community involvement and co-operation at all levels.
Desertification
Desertification is the degradation of land in arid, semi-arid and dry sub-humid areas. It is caused primarily by human activities and climatic variations. Desertification does not refer to the expansion of existing deserts. It occurs because dryland ecosystems, which cover over one third of the world's land area, are extremely vulnerable to overexploitation and inappropriate land use. Poverty, political instability, deforestation, overgrazing and bad irrigation practices can all undermine the productivity of the land.
2021 Theme: Restoration, Land, Recovery..We build back better with healthy land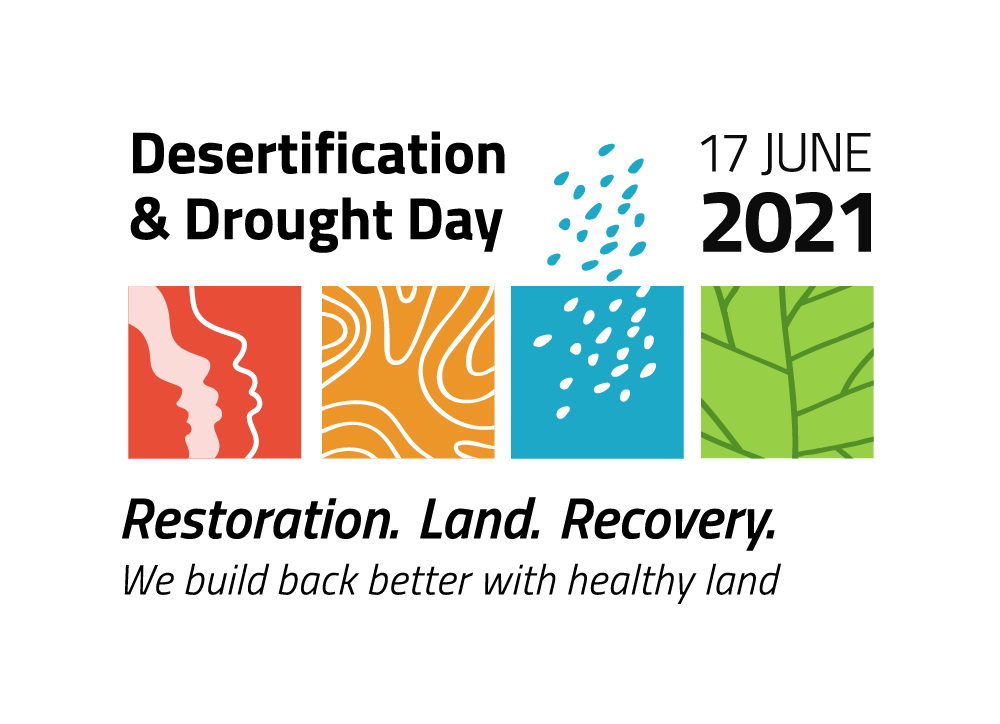 The 2021 Desertification and Drought Day on 17 June will focus on turning degraded land into healthy land. Restoring degraded land brings economic resilience, creates jobs, raises incomes and increases food security. It helps biodiversity to recover. It locks away the atmospheric carbon warming the Earth, slowing climate change. It can also lessen the impacts of climate change and underpin a green recovery from the COVID-19 pandemic. LAND is part of the solution.
The goal of the 2021 Desertification and Drought Day (DDD) is to demonstrate that investing
in healthy land as part of a green recovery is a smart economic decision – not just in terms of
creating jobs and rebuilding livelihoods, but in terms of insulating economies from future
crises caused by climate change and nature loss, and accelerating progress on all 17
Sustainable Development Goals. By doing so, DDD aims to drive actions to protect and
restore natural ecosystems as we recover from COVID-19.
Where we stand
Nearly three quarters of the Earth's ice-free land has been transformed, mainly to meet the demand for food, raw materials and human settlement.
Land degradation is negatively impacting the well-being of at least 3.2 billion people.
Land use change is the primary transmission pathway for emerging infectious diseases of humans, over 60% of which are zoonotic.
Nearly one million species are at risk of extinction. Changes in land use is one of the main drivers.
Land degradation is a lost opportunity for massive carbon sequestration. If humans continue to emit greenhouse gases at current rates, global temperature will rise more than 1.5 degrees Celsius target within decades.
United Nations Convention to Combat Desertification (UNCCD)
Established in 1994, the United Nations Convention to Combat Desertification (UNCCD) is the sole legally binding international agreement linking environment and development to sustainable land management. The Convention addresses specifically the arid, semi-arid and dry sub-humid areas, known as the drylands, where some of the most vulnerable ecosystems and peoples can be found.
The new UNCCD 2018-2030 Strategic Framework is the most comprehensive global commitment to achieve Land Degradation Neutrality (LDN) in order to restore the productivity of vast expanses of degraded land, improve the livelihoods of more than 1.3 billion people, and reduce the impacts of drought on vulnerable populations to build a future that avoids, minimizes, and reverses desertification/land degradation and mitigates the effects of drought in affected areas at all levels ... to achieve a land degradation-neutral world consistent with the 2030 Agenda for Sustainable Development.
Source : United Nations