Every year, the World Health Organization (WHO) selects a priority area of global public health concern as the theme for World Health Day, which falls on 7 April, the birthday of the Organization.
World Health Day 2021 - Building a fairer, healthier world
The theme for World Health Day 2021 is Building a fairer, healthier world.
Our world is an unequal one.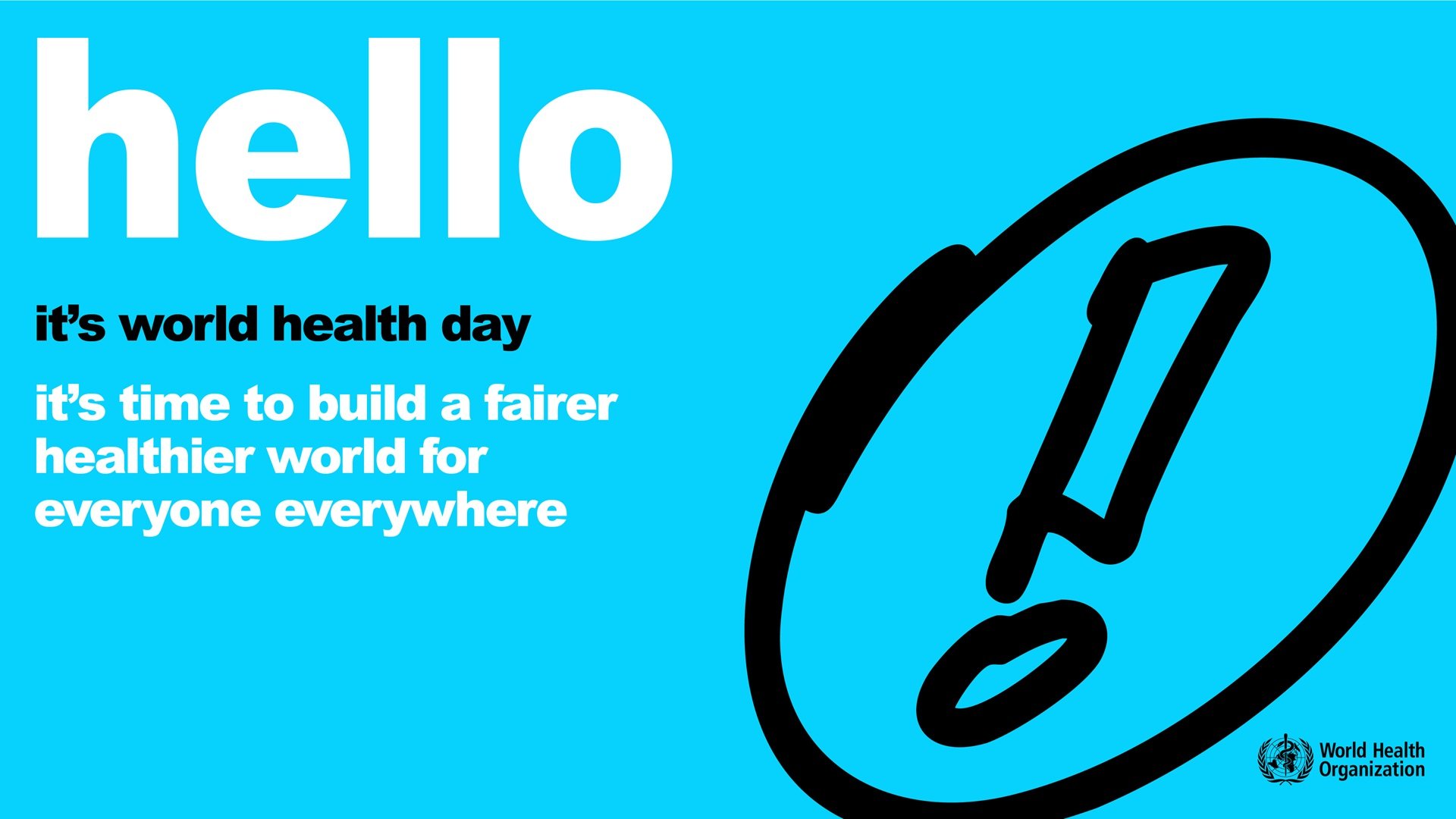 As COVID-19 has highlighted, some people are able to live healthier lives and have better access to health services than others - entirely due to the conditions in which they are born, grow, live, work and age.
All over the world, some groups struggle to make ends meet with little daily income, have poorer housing conditions and education, fewer employment opportunities, experience greater gender inequality, and have little or no access to safe environments, clean water and air, food security and health services. This leads to unnecessary suffering, avoidable illness, and premature death. And it harms our societies and economies.
This is not only unfair: it is preventable. That's why we are calling on leaders to ensure that everyone has living and working conditions that are conducive to good health. At the same time we urge leaders to monitor health inequities, and to ensure that all people are able to access quality health services when and where they need them.
COVID-19 has hit all countries hard, but its impact has been harshest on those communities which were already vulnerable, who are more exposed to the disease, less likely to have access to quality health care services and more likely to experience adverse consequences as a result of measures implemented to contain the pandemic.
Key messages
Globally, 70% of the health and social workforce are women. Nurses and midwives represent a large portion of this Nurses and midwives play a key role in caring for people everywhere, including in times of outbreaks and settings that are fragile or in conflict.
Achieving health for all will depend on there being sufficient numbers of well-trained and educated, regulated and adequately supported nurses and midwives, who receive pay and recognition commensurate with the services and quality of care that they provide.
Nurses and midwives have a relationship with their patients that is based on trust; knowing the full picture of someone's health helps improve care and saves money. They also know the traditions, cultures and practices of their communities, making them indispensable during an outbreak or emergency.
Investing more in midwives, who are critical for maternal and newborn health as well as for family planning, could avert over 80% of all the maternal deaths, stillbirths and neonatal deaths that occur today. And when a midwife or group of midwives provides care from pregnancy to the end of the postnatal period, almost a quarter of pre-term births can be prevented.
Many countries need to do more to ensure that nurses and midwives can work in an environment where they are safe from harm, respected by medical colleagues and community members, and where their work is integrated with other health-care professionals.
Five key investment areas:

Accelerate investments in nursing and midwifery education
Employ more specialist nurses
Invest in the leadership skills of nurses and midwives.
Make midwives and nurses the heart of primary health care
Support nurses and midwives in delivering health promotion and disease prevention.
Source : World Health Organisation
Related Resources