A group of Bhil women have taken the lead in fighting malnutrition and for overall village development at Jhabua, Madhya Pradesh. The initiative was facilitated by Indo-Global Social Service Society (IGSSS) as part of its Hunger and Malnutrition Eradication (Humane) Programme.
Women Watch Groups and their role in village development
The Women Watch Groups (Nigrani Dal) are constituted in every village with active participation of women.
A series of capacity building programmes for leadership development, communication and monitoring skills are provided for the women watch groups
The empowered women discuss their issues in their meeting and prepare work plan to solve the problem.
Families who are deprived of government schemes are identified by the watch groups. The groups prepare the required applications for the identified families and submit it to related department. The families thus receive the due benefits from various schemes.
Women Watch groups take initiative to improve key indicator of health and nutrition in their village. They take the responsibility of their hamlets to ensure participation of 0 to 5 year children and pregnant/lactating women in health, nutrition related activities such as VHND, health camp, Bal Suraksha mah etc. By using of MUAC tape they screen the malnourished children and get them admitted to NRC.
They are vigilant of the activities that the government departments takes up so as to ensure that the quality of services is maintained.
Outcome of actions taken by Women Watch Groups
9674 families have benefited and have been linked with several government schemes related to food security, social security, MGNREGS etc.
120 severe acute malnourished and 297 moderate acute malnourished children were treated and became healthier after having benefited through various inputs related to health and nutrition.
264 nutrition gardens have been established at household level.
1150 families have received vegetable seeds and masala kits from horticulture department.
70 families have revived their food practices by growing minor millets and traditional seeds. They now use organic pesticides and compost at the household level.
202 school dropout children have been re-admitted in schools by organising admission campaigns.
17 % increase has been recorded in vaccination amongst children and pregnant mothers. Increase has been recorded in institutional delivery.
Increase has been observed in safe drinking water facilities in 9 hamlets of seven villages through the effort of village health sanitation and nutrition committee (VHSNC) members.
98 out of 122 Anganwadi centers, 36 out of 50 VHSNCs and 23 out of 31 PDS centers have been effectively implementing their services after the effort of watch group members.
28 CC road, three pond deepening, 23 poultry shed, 58 Goatery shed, 94 irrigation wells have been constructed and 19 fruit orchards have been developed with the convergence of MGNREGS scheme.
1578 families have constructed toilets under the Swachh Bharat Mission after the approval of Gram Sabha.
Voices from the field
"We felt the Power of Unity and now we are able to solve any problem of the village" Ms. Tola w/o Mansingh, Watch group member from Dungra Lalu Village
"I am happy to say that in many villages, women's groups have monitored the Anganwadi centre and solved the clutters. It is a unique and sustainable example to solve any problems." Mr. Kamal Singh Ningwal, Child Development Project Officer, Jhabua.
Impact on nutrition
The unique elements of the intervention are Convergence model between community and government; ownership and participation of women and women led groups; Strategic Capacitating of women and service providers; and addressing problem of malnutrition from a social rather than a medical perspective.
23000 families were benefited by food and nutrition schemes through formation and strengthening of Watch Groups, Village Level Committees and service providers. Secondly the behaviour and attitudinal changes have been visible at the community in the care of pregnant and lactating women, child care and nutrition which are long lasting changes and in fact is priceless contribution to the community by the project. Institutions and community owned system is taking care of the malnourishment and care of the pregnant and lactating women and girls at the community level.
Sustainability
The interventions can only be sustained if the women groups are properly oriented in planning and implementing action plan on identified issues. Their linkages and coordination with various structures is important. The interventions have been replicated from 10 initial villages to 50 villages which will help in understanding of issues and support to the collective decision making.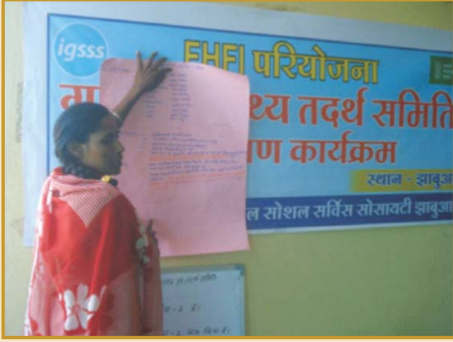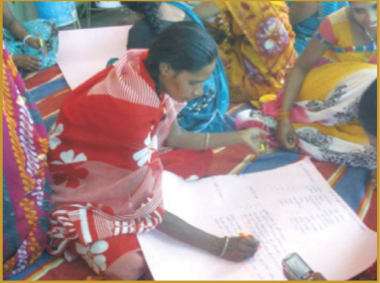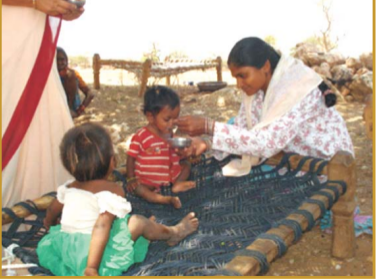 Source: Saansad Adarsh Gram Yojana