Nitrogen
Little new growth, yellow leaves, this being more pronounced in older leaves and leaf drop. Plants stunted, spindly pale yellow or deep yellow color near the tips and margins progresses towards the base, heads small, seed numbers reduced.
Correction measure: Apply 8-10 Kg N / acre as top dressing or foliar spray of urea @ 2-3 percent.
Phosphorous
Small root systems; grain filling inhibited. Growth stunted, spindly, dark green / purple leaves with dark red coloration. Leaf sheaths bend upward with red coloration leaf. Leave appear to be erect and leathery. Roots turn dark brown purple or black.
Correction measure: foliar spray of 2% DAP 2-3 sprays at an interval of 15 days.
Potassium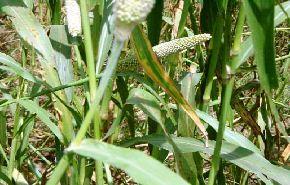 Deficiency first seen on older leaves. Irregular necrotic patterns intermingled with red pigmentation. Streaked patterns on the interveinal tissue, symptoms at tips and margins move towards the base.
Correction measure: foliar spray of KCl @ 1%.
Sulphur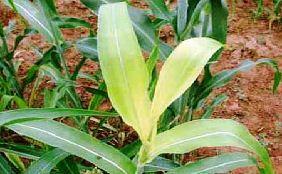 Deficiency appears first on younger leaves. New growth is pale yellow.
Correction measure: foliar spray of CaSO4 @ 2%
IPM for Pearl Millet
To know the IPM practices for Pearl Millet, click here.
Source: NIPHM and Directorate of Plant Protection, Quarantine & Storage