The Department of School, Government of Rajasthan is implementing the following programs on digital learning to support student and teacher learning during Covid-19 as well as overall digital practices in the state:
SMILE program- Social Media Interface for Learning Engagement
Shikshadarshan – Educational content via TV
Shikshavani - Radio broadcasts for students who don't have access to smartphones
Hawamahal – Joyful Saturday
Conducting live sessions for students on career guidance via YouTube
Kala Utsav – Summer Camp
DIKSHA content
E-content invited via ShalaDarpan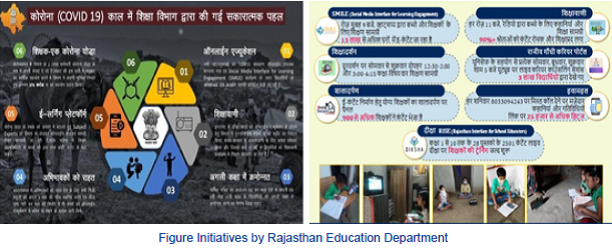 Project SMILE
School Education Department, Govt. of Rajasthan Project SMILE (Social Media Interface for Learning Engagement) A program to ensure continuous learning for students and teachers from home
School education department, Government of Rajasthan kicked off Project SMILE (Social Media Interface for Learning Engagement) on April 13 2020. It's a program to ensure continuity of learning for students and teachers during the COVID-19 lockdown period across the state.
Students and teachers receive daily video content via WhatsApp. The department has curated a repository of video content for competencies across grades 1 to 12. For each topic, a module of 4 to 5 videos has been curated with 30-40 minutes of content using free and publically available resources. This content is reviewed by a team of subject matter experts from SCERT. Students and teachers can just click on the links and access the content. Students in Grade 10 and 12 also receive 10 practice questions daily on remaining Board papers under the #10PrashanChallenge
To ensure that these groups reach maximum children (via parents), including those in far-off areas, Panchayat level Education officers (PEEOs) are actively communicating with teachers in their jurisdiction to identify and add as many parents as possible. PEEOs have created two kinds of groups- one with all the teachers in their jurisdiction and another with all the students' parents in their jurisdiction. Every morning, at 9 AM a message with the links of the videos for the day is forwarded via the WhatsApp channels from State Core Team to reach students (via parents) and teachers ("हरसवेरे 9 बजे, हरघर ,कूलघंटीबजे")
The content is currently reaching students in 12.78 lakh households via 9226 WhatsApp groups and 3.28 lakh teachers via 9768 WhatsApp groups every day
2.5 lakh children are viewing the videos daily. 90% students and teachers shared (via a feedback form) that the content quality was good. 98% parents shared (via a feedback form) that their children learnt a new topic after watching the videos
Mobile Based Application
The Rajasthan government launched a free digital learning app for students during Covid-19 lockdown. Rajasthan government has tied up with e-learning platform Bright Tutee to launch a free digital learning app for students of classes 9 and 10.
The free subscription of the app would include comprehensive Learning, topic-wise Videos, Assessment and Question Bank for Mathematics and Science.
The entire learning digital content is available in three languages, namely Hindi, English, Hindi-English (bi-lingual).
Shikshadarshan - Educational TV - DD Rajasthan to reach students of Rajasthan w.e.f. 01.06.2020 for all classes.
195 minutes of content shared from Mon to Saturday for Grades 1 to 12 via DD Rajasthan
Partnered with Eckovation, Central Square Foundation and Tic Tac Learn for content creation
75.2% students said that they watch Shikshadarshan content daily (based on teacher calls)
| | |
| --- | --- |
| Class | Time |
| 1-8 | 12:30-1:30 pm |
| 9-10 | 1:30-2:30 pm |
| 11-12 | 3:00-4:15 pm |
Shikshavani - Education via Radio
55 minutes of stories (MeenakiKahani – which talks about social issues) and study material shared via radio at 11 am daily
This is being broadcasted via 25 stations of All India Radio. Content also includes interesting stories, recordings on life-skills for children
62% students claim to listen to Shikshavani content daily (based on 1L+ teacher calls)
90% listeners found the content interesting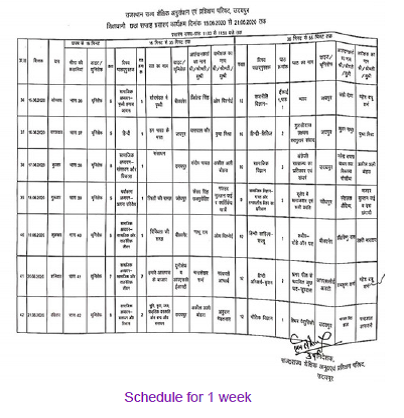 Hawamahal- Joyful Saturday program
"कोरोना समय में बच्चों का झरोखा"
Every Saturday, a poster with a short description of stories and games is shared via the WhatsApp groups. Students across age groups can give a missed call to a number to listen to these stories and play the games as directed. Children can also find PDFs of stories via these posters
Over 25,000 students hear the stories weekly
Conducting live sessions for students on career guidance via YouTube Rajiv Gandhi Career Portal
Live career counselling sessions on YouTube for secondary students. Available every Monday, Wednesday and Friday at 5 PM
Sessions on how to look for job, enhance skills, build CV, etc. provided
Counselling helpline number also launched
Attended by over 3 lakh students
Kala Utsav
From 15 – 28 June, a SMILE Summer Camp has been launched – Rajasthan Kala Utsav
In the first week, YouTube live sessions (2 hrs/day for 6 days) portraying Rajasthani art, craft and culture will be conducted in collaboration with Prithviraj Foundation, Ajmer. This will be open for all classes and the sessions will be broadcasted via the SMILE YouTube channel. SMILE WhatsApp groups and teacher calls will be used to disseminate information about the programme.
In the second week, a competition will be run wherein children will be asked to prepare art & craft models learnt in the workshops – submissions will be received via Google forms.
Workshops:
Phad Painting: Shri Kalyan Joshi (Bhilwara)
Charcoal Painting: Shri Laxyapal Singh Rathore (Ajmer)
Watercolour Painting: Shri K. G .Kadam (Bhilwara)
RjasthaniMandana: Shri Sanjay Sethi (Ajmer)
Paper Mache: Shri Virendra Kumar Sharma (Jaipur)
Collage Making: Smt Uma Sharma (Mathura)
Orientation Sessions:
कला क्षेत्र में शिक्षा, कैरियर एवं अर्थोपार्जन: Shri Bhawani Shankar Sharma (Former President Rajasthan Lalit Kala Academy, Jaipur)
भारतीय कला का इतिहास एवं विकास: Dr. Anupam Bhatnagar (Former HOD of Fine Arts Government College, Banswara & President of Aakar Art Group)
राजस्थानी लोक कलाएं: Padmashri Dr. C.P. Deval (Ajmer)
Youth Icon- Nitin Jain, Founder Indibni
कला में साहित्य संस्कृति आध्यात्म का समावेश: 'Kalavidh' Shri Ram Jaiswal (Ajmer)
कला एवं कलाकार का व्यक्तित्व और समाज में भूमिका: Dr. Annapurna Shukla (Assistant Professor, Banastali Vidhyapith)
DIKSHA - RISE (Rajasthan Interface for School Educators)
2501 topics from 28 books for classes 1 to 10 made live
Over 45 L views received on the content
Single sign-on being developed for over 3 lakh teachers in the state. State to launch a digital training program in the first week of July
Shaladarpan
This is the state's integrated MIS portal. It has real-time data available and is integrated with key processes at all levels e.g. for Schools- Infrastructure, SDMC details etc.; for Student- Enrolment, Board results, Tracking of Free Text-book distribution etc.; and for Teachers- joining, relieving, service book, training etc. It is also used to track digitally record teachers' attendance The state digitally tracks the demand and distribution of textbooks for each student and each book individually. This is being tracked since 2019
E-content invited from teachers for all grades and chapters
Plan is to create a digital library that can be used once schools reopen and be integrated with the regular offline modes of teaching
Over 900 teachers have submitted content
Content being vetted and mapped to syllabus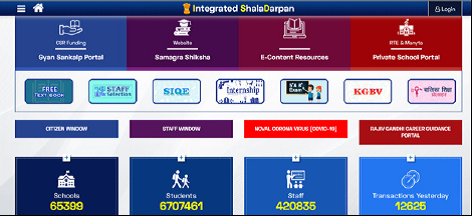 Shala Samvad
State has developed a "Talk to teacher" interface on its integrated MIS portal(ShalaDarpan). Students can log into the portal and ask any content related questions (by grade-subject). A panel of subject experts can answer students' queries. Students can ask questions in any language, upload images etc. This will allow students and teachers to stay digitally connected from the safety of their homes.
Other Initiatives
Online interviews
State conducted interviews over VC with over 600 candidates through Microsoft Teams to recruit teachers for English Medium schools
Day, slot, panel wise online interview links were sent to each candidate's personal email and WhatsApp numbers
Online grievance redressal system
State has developed an online grievance redressal system in which teachers can submit their grievances, and the same can be digitally tracked and resolves
Shala Samblan
State is developing an app-based monitoring process via the Shala Samblan app. The Shala Samblan process is a school visit program for monitoring administrative and academic performance of the schools. The mobile app will be used to digitize the school monitoring process to provide the state real-time data on the status of schools. Data from the app will be used to populate dashboards which will provide a one-stop view of all key metrics
An app-based Samblan process will allow several field functionaries- State level officials, District level officials (CDEOs, ADPCs), Block level officials (CBEOs, Resource Persons), DIET Principals etc. to record any school's performance during a visit. Anyone with valid credentials can download the app and use it to initiate the Samblan process. The application will allow officials to capture data on the following sections- Daily attendance & enrolment, leave sanctions; Infrastructure; Tracking learning outcomes; Classroom practices; Progress on departmental initiatives; Feedback & suggestions section
Academic monitoring or tracking learning outcomes is an integral part of the Samblan process. The state intends to achieve this via spot-check assessments. The process is planned as the following-
During each spot check visit, the visiting officer will select students randomly& ask skill-wise questions based on the student's grade. The questions will be auto-populated in the app based on a pre-defined question bank. The user will just have to enter how many students could solve it
Basis this grade-wise data, percentage of students proficient in a given skill area will be calculated at block, district, state level for reviews